Time entry software solution honored by customers in 7th annual LTN Awards
Atlanta, GA (PRWEB) December 31, 2009 -- Advanced Productivity Software Inc. (APS), the leader in distributed time entry software, announced that DTE Axiom was once again awarded the Bronze Medal in 7th Annual Legal Technology News Awards.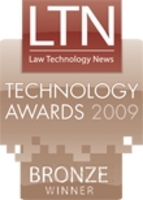 LTN 2009 Bronze Award
In 2009, the editors of Law Technology News asked the publication's more than 40,000 subscribers to identify products and vendors that represented outstanding achievement in legal technology in 25 categories for its seventh annual awards program. DTE Axiom was selected for the Bronze Medal in the area of "Time and Billing for Large Firms" category.
"We've been working hard at APS to continually improve and evolve DTE Axiom, to better meet the needs of global firms," says APS President Jim Tharpe. "We pride ourselves on constantly working to remain on the cutting edge of legal software technology. We thank Legal Technology News and all those who voted for this recognition."
Developed to provide unprecedented performance, connectivity and functionality, DTE Axiom offers a radical step forward in time entry software, especially for today's increasingly globally-oriented law firms. DTE Axiom is a completely new, non-browser based internet application. Utilizing patent pending architecture, DTE Axiom runs over existing IIS and SQL server infrastructure affording unparalleled speed, security, usability, deployment, data consolidation, and continuity.
"We congratulate the 2009 LTN Award winners, and applaud their creativity and innovations," said Monica Bay, Editor-in-Chief of Law Technology News. "The awards dramatically illustrate how our community is determined to develop and adopt superb technologies that help legal organizations deliver better, faster and cheaper legal services in these turbulent economic times."
The awards, selected based on subscriber online voting, will be presented at LegalTech New York on February 1, 2010. Information on the awards and winners will be featured in the March 2010 issue of Law Technology News and on the magazine's Web site at www.lawtechnologynews.com.
"It's a great credit to the innovation of and dedication of our team just to be nominated for the award," said Product Manager Devin GawneMark. "But it is a real honor for the law firm community to once again offer DTE Axiom this recognition."
For more information about DTE Axiom, please visit www.aps-soft.com or call Advanced Productivity Software at 800-783-9231.
DTE Axiom is a registered trademark of Advanced Productivity Software, Inc.
About Advanced Productivity Software, Inc.
Since 1990, Atlanta-based Advanced Productivity Software has provided scalable, reliable time tracking and cost recovery software that makes it easier to capture more time accurately, enabling law firms to quickly track and access activity that improves the firm's bottom line. Used by more than 50 percent of the AmLaw 100 firms worldwide, Advanced Productivity Software offers three time management and usage tracking solutions: DTE Axiom, RollCall and LookUp Precision. For more information on Advanced Productivity Software and its solutions, please call 800-783-9231 or visit www.aps-soft.com.

About Law Technology News
Law Technology News provides timely information and insight into the latest technologies, products and services available for the legal marketplace. Each month, the award-winning magazine features new product announcements, as well as monthly articles and columns written by industry experts and senior law firm decision makers. LTN is distributed to more than 40,000 selected subscribers and is also available on the Web at www.lawtechnologynews.com. The magazine is published by ALM, a leading provider of specialized business news and information, focused primarily on the legal and commercial real estate sectors.
###

See Also:
[Via Legal / Law]