2009 was a banner year for the The Law Offices of Ledger & Associates. Not only was the catastrophic injury and wrongful death law firm awarded the coveted 10.0 (Superb) Avvo Ratting this year, the firm was also retained by many hundreds of victims seeking financial compensation for their injuries.
Newport Beach, CA (PRWEB) December 24, 2009 -- At the close of 2009, the Law Offices of Ledger & Associates, a leading California Personal Injury Law Firm, has much for which to be thankful. Attorney Emery Brett Ledger who started the law firm back in 1998 stated, "This was an incredible year. We feel very fortunate to have been able to do so much good for so many people. Our most heartfelt desire is that in 2010, we can help even more clients achieve the same substantial verdicts and settlements."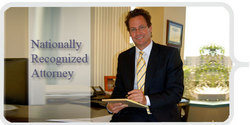 Attorney Emery Brett Ledger
Of note in 2009, was the retention by four individuals whose lives were tragically changed by the Metrolink Train accident which happened late last year in Chatsworth, California. After an exhaustive search for the most qualified attorney by the Tiu family, they chose the professionalism and experience of
Ledger & Associates
. The law firm is seeking over thirty million dollars on behalf of the Tius' and others victims of the catastrophic train accident. The matter is pending in Los Angeles Superior Court Case #BC407455. Metrolink officials said that a train engineer's failure to heed a red light signal apparently caused the catastrophic head-on crash in Chatsworth that claimed 25 lives.
In addition, 2009 brought The Law Offices of Ledger & Associates the coveted "10.0 - Superb" rating by Avvo, the country's largest independent Attorney Rating Service.
When asked to what he attributed the firm's meteoric growth to, Ledger stated, "We are a law firm people can trust." As a second generation California Attorney Ledger prides himself on delivering stellar legal advice and straight talk to his clients.
Throughout 2010, the law firm will continue to assist those seriously injured in auto, motorcycle and aviation accidents. Due to its desire to take on only a limited number of cases the firm will continue to be selective in its client retention. Those lucky enough to have LedgerLaw handle their injury matters will undoubtedly have as Avvo describes, a "superb" law firm fighting for them.
See Also:
[Via Legal / Law]