Online marketing and SEO company, Adviatech, announced that their law firm marketing services outperformed their other services in 2009. The search engine marketing firm has plans to build on that in 2010.
Tampa, FL (PRWEB) December 30, 2009 -- As the markets stumbled to regain their footing in 2009, Tampa, Florida based online marketing and seo company Adviatech continued on their rapid growth trail, soon to close out their calendar year at close to 100% gross revenue increases and comparable net income growth.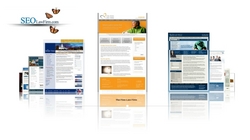 Law Firm Websites - SEOLawFirm.com
Adviatech's management credits their
law firm marketing
holding, SEOLawFirm.com, as the primary source of 2009's growth. Adviatech's Vice President, Jason Bland, commented this week that SEOLawFirm.com is really the most valuable part of the company. It has the highest success rate, the highest retention rate, and it caters to a market dominated by larger
legal marketing
companies that are easy to compete with due to our superior customer support."
While that may sound like a bold statement, they have the numbers to back up the claim. In 2009, more than half of SEOLawFirm.com's new accounts were won over from four of the largest law firm marketing companies in the nation. One in particular whom Bland would not name but joked that "We've acquired so many of their accounts that we feel like we should send them a gift basket."
All joking aside, Adviatech realizes that their success is based on customer retention and their primary goal remains to improve their client's search engine rankings and visitor conversion.
As the only law firm marketing company that includes social networking, monthly content writing, and distribution services in their standard search engine optimization plans, even Adviatech's management will admit that controlling overhead is key to ensuring their continual net-income increases. If clients are afraid that means outsourcing, they will be surprised to know that it actually means the opposite.
Over the last two years, Adviatech has been able to reduce their outsourced staff by 50% and plans to continue hiring local personnel in Tampa, Florida, and around the United States. While some services like content distribution will remain outsourced, all other positions are handled locally and those local teams from writing, to design, to programming and social networking are going to continue to be added to with local employees.
Bland mentioned that "Five years ago when we started Adviatech, outsourcing was a necessity. However, as we bring more jobs home and strengthen our local teams we continually see quality improvements and our clients are willing to pay for a company that has employed staff members with direct phones lines. The value of personal support far outweighs the savings that come with offshore outsourcing."
While Adviatech has several internal projects in development for 2010, SEOLawFirm.com's expansion is the most expensive. They are not giving any details as of yet, but hinted that SEOLawFirm.com may become a network of other services and freely available marketing tools to help attorneys get new cases.
While 2009 closes out Adviatech's 5th calendar year, April 1st of 2010 will complete their 6th fiscal year. At the closing of their fiscal year, Adviatech will post their growth percentages at Adviatech.com.
Learn more at http://www.seolawfirm.com or call 1.800.728.5306.
See Also:
[Via Legal / Law]