Neal Goldstein, a personal injury attorney from Long Island, has recently been elected to serve on the Board of Directors for New York State's Academy of Trial Lawyers. Mr. Goldstein will take part in the organization's mission to strengthen and to protect our civil justice system.
(Vocus/PRWEB ) July 7, 2010 -- The New York State Academy of Trial Lawyers has recently made a new addition to its Board of Directors. The organization has appointed Neal Goldstein, an experienced and well respected personal injury attorney, to serve among the organization's leaders.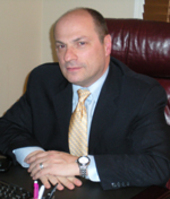 Mr. Goldstein, a partner at the
Goldstein and Bashner
firm, has represented accident victims across the New York and Long Island areas for over 20 years. As Mr. Goldstein joins the New York Academy of Trial Lawyers, he will become a member of an organization that is deeply devoted to protecting and strengthening our civil justice system. In order to do so, the organization relies on a diverse membership, with members ranging from attorneys and paralegals, to tenured law professors. Mr. Goldstein helps to bring the organization an important presence. Michelle Stern, the Executive Director of the organization, states "The Academy is thrilled to welcome
Neal Goldstein
to its Board of Directors. Mr. Goldstein has been an actively involved member and will bring his expertise and insight to this new leadership role. I look forward to working with him."
Mr. Goldstein's East Meadow based firm's practice areas include car accidents, hazardous work conditions, and premise liability. In response to being invited to join the Board of Directors, Mr. Goldstein stated, "it was an honor," and added, "I normally don't get involved in legal organizations passed the member level, however, I felt that that this was a unique opportunity to have an integral role in an organization that truly is helping to rebuild the image of our profession." Mr. Goldstein further praised the academy's public outreach, adding that "at a time when insurance companies continue in their attempt to erode the rights of individuals, it is important for the public to know fact from fiction. The academy effectively helps people to do so." Mr. Goldstein looks forward to helping to strengthen the organization and has already begun to recruit fellow legal professionals to join.
See Also:
[Via Legal / Law]