Regina A. DeMeo, an attorney with the suburban Maryland law firm of Joseph, Greenwald and Laake, PA shared her personal story of divorce and its effects on her business and professional life. DeMeo's story was featured in the Washington Post and several other media outlets.
(Vocus/PRWEB ) July 9, 2010 -- Regina A. DeMeo, an attorney with Joseph, Greenwald & Laake, PA (http://www.jgllaw.com) helped to shed some light on the recent debate over the Uniform Collaborative Law Act.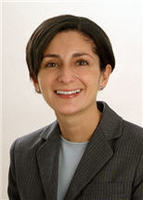 Regina DeMeo, Esquire
On June 20, 2010, the Washington Post featured Ms. DeMeo's personal story and how her own divorce sparked her interest in promoting Collaborative Divorce. That story has been picked up by journals all over the country, and last week became one of the American Bar Association Journal's top 10 stories of the week. The public debate that has been fueled by this story has finally brought to the surface a political struggle that has gone undetected by most Americans for some time. There are heavy lobbying forces that do not want the Uniform Collaborative Law Act to pass in their states, including Maryland.
Collaborative Divorce is an alternative to litigation, where the parties agree not to go to court, to exchange all relevant information, and to work together to generate options for a final resolution that is in the family's best interest. The parties' counsel will work together with mental health professionals, known as "divorce coaches" and a financial expert to assist the parties in reaching a settlement that both parties can live with. The normal privileges of confidentiality are waived, so that the team can work together to better understand the parties' concerns and generate solutions to address those issues. If the parties are unable to reach a final agreement, the entire team is disbanded, and the parties must obtain all new counsel and outside experts. The incentive is therefore high for the parties and all experts involved to work together to reach a final resolution, using the law as just one of many reference points in determining a fair outcome.
Ms. DeMeo is currently Co-President of Collaborative Divorce Association, Inc. in Maryland, and she lectures at Georgetown University, The George Washington University Law School, and various associations and court venues on this topic. Collaborative Divorce currently comprises about 25% of her family law practice at Joseph, Greenwald & Laake, PA.
Joseph Greenwald & Laake is a full service law firm with 33 lawyers, practicing in several areas, including family law, business, real estate, trust and estates, tax, criminal, employment, personal injury and medical malpractice. JGL serves local and national clients in Washington, DC, and throughout Maryland. It has offices in Montgomery, Prince George's and Howard Counties.
See Also:
[Via Legal / Law]
Potenshöjande medel - potenshöjande medel | online pharmacy without prescription