Corboy & Demetrio personal injury lawyer, Matthew Jenkins, has been selected as the Illinois Pro Bono Attorney of the Month by Illinois Legal Aid Online.
(Vocus/PRWEB ) July 9, 2010 -- Matthew Jenkins, a personal injury lawyer at the Corboy & Demetrio law firm, has been selected as the Illinois Pro Bono Attorney of the Month by Illinois Legal Aid Online for the exemplary volunteer legal work he has done. He is featured in a video on the website, Illinois Pro Bono.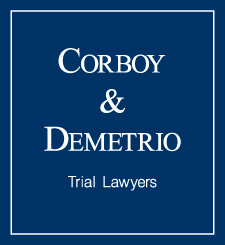 Jenkins joined the Chicago-based personal injury law firm of Corboy & Demetrio in 2008. Before returning to the firm where he clerked while attending law school, Matt practiced plaintiffs' civil rights law at Loevy & Loevy in Chicago.
A graduate of the University of Pennsylvania, he received his Juris Doctorate degree in 2007 from IIT Chicago-Kent College of Law, where he was recognized for both his academic achievements and his commitment to public service. In 2005, the law school honored Matt's personal dedication to public service by naming him a Public Interest Law Initiative Scholar.
He is an active member of the American Bar Association, American Association for Justice, Illinois Trial Lawyers Association, where he currently serves as co-chairman of its Civil Rights and Criminal Law Committee, and Illinois State Bar Association, where he is an investigator on the Judicial Evaluation Committee. Matt is also President of the Young Professionals Board at the Center for Disability & Elder Law and Chair of the Young Alumni Committee of the Alumni Board at IIT Chicago-Kent College of Law.
Illinois Legal Aid Online develops technology and information to increase access to justice for Illinois residents.
To consult with Attorney Jenkins or any other lawyer at our Chicago personal injury law firm, call 312.346.3191. We are available 24 hours a day, 7 days a week. Keep up-to-date on the Corboy and Demetrio Twitter page.
About Corboy & Demetrio
Corboy & Demetrio is one of the nation's premier law firms. It represents individuals and their families in serious personal injury and wrongful death cases arising out of airplane and railroad disasters, failed products, medical malpractice and a host of other catastrophic events. Corboy and Demetrio is renowned for its achievements in the courtroom and for its contributions to the community. The rights and concerns of its clients are at the core of Corboy & Demetrio's practice. That commitment, dedication, compassion and relentless drive has resulted in exceptional service and exceptional results. The firm has acquired more than $3 billion in settlements and verdicts, of which almost 600 were in excess of $1 million.
See Also:
[Via Legal / Law]
Potenshöjande medel - köp viagra | online pharmacy without prescription