American Residential Law Group's proven successes benefit Home Owners and economy
Fort Lauderdale, FL (PRWEB) July 1, 2010 -- American Residential Law Group continues to strengthen their home loan modification program as the success of their clientele increases.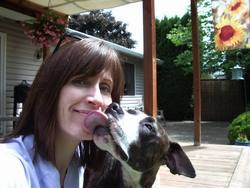 Lisa Sorensen with her dog in front of her home.
While homeowners across the country continue to lose faith in governmental programs aimed to help them climb out of negative equity owed on their homes, American Residential Law Group is giving their clients hope by helping them rework their mortgage terms including lowering interest rates, reducing principal and deferring payments.
American Residential Law Group was able to help Lisa Sorensen avoid foreclosure after she inquired about loan modification information from American Residential Law Group's website.
"I submitted the required information to see if ARLG would accept me as a client, and much to my joy, they did-I was basically worry free," said Lisa Sorensen, a client of American Residential Law Group. "(ARLG) took the time to actually get to know more about me...(their) confidence and sincerity allowed me to focus my energies on day-to-day living."
"We get the opportunity to help people like Lisa Sorensen everyday; these modifications benefit everyone including the economy," said Joel S. Jacobi, Managing Attorney of American Residential Law Group. "It is important for us to educate our clients on what the banks are looking for in the modification process and that starts with helping them find the right programs to work with and the right people to talk to."
American Residential Law Group provides the services and legal advice required to start the loan modification process. With their provided expertise, their clients can avoid simple errors that could lead to higher payments or even unforeseen foreclosure. In many cases, proper guidance enables homeowners to reduce their payments up to 30% of their monthly income.
"If there was one piece of advice to give someone who found themselves in a similar situation like mine it would have to be to spare yourself the grief of trying to negotiate directly with your lender and leave it to the experts," said Sorensen. "It is well worth the fee and I'd gladly pay it again.  I can move forward knowing I can sustain my mortgage and do more than just get by, but actually live again."
To learn more about loan modifications and how American Residential Law Group can be of assistance to you, visit them at http://www.ARLGNow.com.
About American Residential Law Group: American Residential Law Group is a law firm that strives to provide the community with legal assistance and all the benefits to which consumers are entitled under the law. With a considerable background in all areas of consumer advocacy, American Residential Law Group remains dedicated to providing integrity and excellence for their clients, and increasing their quality of life.
See Also:
[Via Legal / Law]