FileHold www.filehold.com document management software helps companies; "Go Paperless" by organizing and protecting their intellectual property. FileHold'09, the latest product release from FileHold Systems, provides even more features for; physical and electronic records management, e-mail archiving and integration with other business applications. FileHold'09 supports all the new Microsoft platforms including 32 bit and 64 bit versions of Windows Explorer 8, SQL Server 2008, Windows server 2008, SharePoint 2010 and Windows 7.
(PRWEB) June 30, 2010 -- Larry Oliver, President of FileHold said; "FileHold'09 delivers on the FileHold philosophy of making feature rich and infinitely scalable document and records management software affordable for organizations of all sizes. Our product has always been easy to install and easy to use but now it is even more packaged for fast, low cost deployment. Our decision to stay Microsoft centric has been a good one. Most of our customers already have the Microsoft components needed to run FileHold so installation is a matter of hours not days or weeks. We have packaged our product our installation processes and our training so that our customers know in advance what their total cost of ownership (TCO) will be.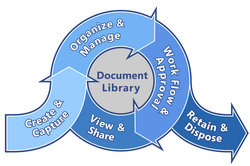 Document Management Lifecycle
A major feature expansion of FileHold'09 is in the area of Records Management! There is more and more need for organizations to store electronic and physical records to stay in regulatory compliance. FileHold'09 makes it easy to set archive and disposition policies for both physical and electronic documents."
Dr. Jacek Lipowski, CTO of FileHold said: "Our product harnesses the power of the various Microsoft environments. We take full advantage of key Microsoft platforms. Microsoft Active Directory synchronization allows users to logon to FileHold with a single sign on. We make use of Microsoft SQL reporting services to empower our customers to mine data from FileHold and generate business intelligence. We integrate with Microsoft Office so that our customers can archive and tag Office documents including business relevant e-mail with a single click or using drag and drop.
Our integration with Microsoft SharePoint via web parts is a fast and easy way to add complimentary features such as; document scanning, document viewers, redaction, document workflow and approval to SharePoint. FileHold'09 strengthens SharePoint's 'federated search' functionality by allowing users to look for documents in both the FileHold and SharePoint repositories."
"Members of the Microsoft Partner Network, such as FileHold Systems Inc have earned the status as trusted advisor by helping customers realize business value. Partners like FileHold Systems inc. that achieve Microsoft Gold Certified Partner status have a deep understanding of Microsoft solutions and a passion for Canada's growing technology industry," said Corinne Sharp, National Director, Canadian Partner channel, Microsoft Canada Inc.
About FileHold Systems
FileHold, www.filehold.com is a privately owned, Microsoft Gold, manufacturer of affordable document management software with over 7,000 seats in production throughout the world. FileHold software; the fast track to the "Paperless Office", is easy to use, easily interfaces with third party applications and is tightly integrated with Microsoft Office and SharePoint. FileHold empowers workers to store and find their important documents, including e-mail, while maintaining tight version control and managed workflow. For a free public demonstration of document management software: http://www.filehold.com/business/sign-up.htm
For further information contact Larry Oliver at 604-734-5653 loliver(at)filehold(dot)com .
See Also:
[Via Legal / Law]