Beth Israel experiences a significant increase in patients days after St. Vincent's closes in New York. Medical malpractice attorney David Perecman comments.
New York, New York (PRWEB) May 5, 2010 -- When physicians and other hospital staff members get too busy, what typically rises in New York is problems related to medical malpractice. Medical malpractice attorneys are what Beth Israel wants to avoid. After St. Vincents's, a major Greenwich Village hospital shut its doors this month, patients are flooding the Beth Israel hospital in greater numbers.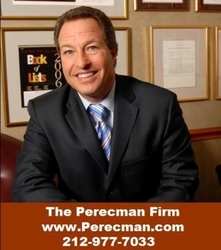 According to the New York Daily News, Beth Israel has experienced a 25% increase in walk-in patients in the week since St. Vincent's closed and daily admissions have reached an all-time high.
Hospital employees are commonly known to be overworked. Now, a major New York hospital has closed and another hospital is absorbing the majority of the medical malpractice cases. New York medical malpractice attorneys understand that circumstances like these have the potential to lead to mistakes.
"The closure did not benefit the community. What will benefit it is that the remaining hospitals are working towards the best solution for all New Yorkers," said NY medical malpractice attorney David Perecman.
David Perecman and The Perecman Firm, PLLC:
For the past 30 years, the New York medical malpractice attorneys, personal injury, construction accident, and auto accident attorneys at The Perecman Firm, PLLC have championed all types of cases for victims of auto accidents and their families. David Perecman, founder of the Firm, is a Board Director and the past Secretary and Treasurer of the New York State Trial Lawyers Association (NYSTLA) and a chair of its Labor Law Committee. Mr. Perecman's achievements have brought him recognition as an Honoree in the National Law Journal's Hall of Fame, in New York Magazine's "The Best Lawyers in America" and The New York Times Magazine "New York Super Lawyers, Metro Edition" for the years 2007-2010.
The Firm has recovered millions of dollars for its clients. Among the more recent victories, Mr. Perecman won a $15 million verdict* for a construction accident, a $5.35 million dollar verdict** for an automobile accident, and a $40 million dollar structured settlement for medical malpractice.
*later settled while on appeal for $7.940 million
** later settled for $3.5 million
"Lawyer Advertising"
"Prior results do not guarantee a similar outcome."
See Also:
[Via Legal / Law]