New York auto accident lawyer David Perecman views the effort as a way to make streets and sidewalks safer for everyone
New York, New York (PRWEB) May 4, 2010 -- April 26, 2010 - New York State has the third highest pedestrian fatality rate for seniors in the country, and New York auto accident lawyers agree that this is one top ranking the state does not want.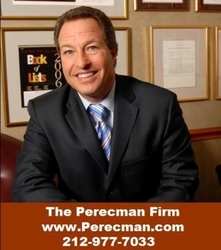 One group of seniors is actively trying to make the streets safer: the AARP. Volunteer AARP surveyors headed out to more than 70 intersections in all five boroughs to determine if the intersections have enough safety measures in place to protect walkers. Questions include: are the traffic signals clearly visible, are crosswalks clearly marked, and do seniors have enough time to cross the street.
"This study will hopefully get DOT and city officials to focus on preventing pedestrian accidents and auto accidents, as well as injuries and lawsuits in New York State," auto accident lawyer David Perecman said.
City officials from the Department of Transportation (NYCDOT) were the first to identify the questionable intersections that will be surveyed.
One of the most infamous crossings is located in Chelsea at 29th Street and Eighth Avenue. At this intersection, seniors were involved in eight accidents between 2004 and 2008, according to the New York Post.
Other target intersections include: Essex and Delancey (Manhattan), 20th Avenue and 86th Street (Brooklyn), and Jamaica and Parsons Avenue (Queens).
New York auto accident lawyers understand that the survey data will be used to both help write legislation that improves crosswalks where needed and to help the DOT develop infrastructure changes to improve New York City streets.
This effort is part of a statewide campaign officially known as "Complete Streets Week: Making New York Walkable for All Generations".
"Creating a safer, more secure and more supportive environment will not only benefit the senior populations, but will benefit us all, from walker to biker," said Perecman.
David Perecman and The Perecman Firm, PLLC:
For the past 30 years, the New York auto accident lawyers, personal injury, construction accident, and medical malpractice lawyers at The Perecman Firm, PLLC have championed all types of cases for victims of auto accidents and their families. David Perecman, founder of the Firm, is a Board Director and the past Secretary and Treasurer of the New York State Trial Lawyers Association (NYSTLA) and a chair of its Labor Law Committee. Mr. Perecman's achievements have brought him recognition as an Honoree in the National Law Journal's Hall of Fame, in New York Magazine's "The Best Lawyers in America" and The New York Times Magazine "New York Super Lawyers, Metro Edition" for the years 2007-2010.
The Firm has recovered millions of dollars for its clients. Among the more recent victories, Mr. Perecman won a $15 million verdict* for a construction accident, a $5.35 million dollar verdict** for an automobile accident, and a $40 million dollar structured settlement for medical malpractice.
*later settled while on appeal for $7.940 million
** later settled for $3.5 million
"Lawyer Advertising"
"Prior results do not guarantee a similar outcome."
See Also:
[Via Legal / Law]