Retired Officer of the former 902nd M.I. Unit at Fort Meade, MD. produced the report in September, 1998.
Chicago (PRWEB) May 4, 2010 –– This May marks the ninth expedition to the South Seas island nation of Kiribati by researchers looking for the plane of the vanished pilot Amelia Earhart. The author, of the newly released book "Amelia Earhart-Take Off to Oblivion", was written directly from reports purchased in September of 1998 from a decorated veteran of the 902nd Military Intelligence Unit formerly stationed at Fort Meade, MD. This was the legendary Black Op's Unit known as Operation Stargate, of later television fame.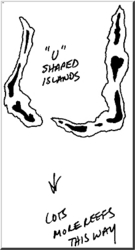 Though not the end point, this is a sample of the kind of drawings in the book.
What makes this book notable is that it includes a map that geographically marks off the planes' debris field in feet and provides a water depth. Further, the report explains why Earhart approached the island as she did, and gives an account of the crash. Other drawings show reefs seen along her previously unknown flight path. As incredible as all this may sound, this is the report the Pentagon would have received if they had targeted the 902nd M.I. on Earhart's flight in the interests of the American people.
For people that do not care about this mystery, the book claims to be the only place the public can get a look at raw, military grade, psychic intelligence data. Referring to the researchers previous trips, author S.J. Seeds stated, "All the data provided by their previous expeditions support our 1998 instantaneous break apart findings, which continues to delineate our two scenarios at the island. Given the time she arrived, the idea that Earhart landed safely, and continued to radio for help, was never plausible."
Whether or not the reader believes in 'psy-functioning', the author says the expedition will provide valuable feedback for scientists that study the paranormal and is deliberately brining this material forward before the plane is found. Published on the Evidential Details Imprint; Logistics News Network, LLC; ISNB 978-0-9826928-0-6; www.LNN1.com
See Also:
[Via Legal / Law]