Special Partnership with the City of Dallas gives historic building a new lease on life and creates new interest in downtown living
Dallas, TX (PRWEB) April 27, 2010 -- It was once a terminal for the trolley cars that crisscrossed Dallas' downtown streets, connecting its workers to their nearby homes for the first half of the 20th century. Now the Interurban Building is home for a new generation of city residents who are repopulating the urban core of America's eighth-largest city while enjoying a unique blend of city-only and suburban-friendly lifestyles.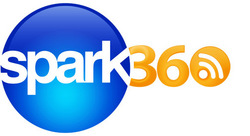 spark360 covers Dallas's Interurban Lofts and Urban Market in this week's program
The story of how the Interurban came back to life after being slated for a date with the wrecking ball is the subject of the latest spark360 "Social Business Television" program, seen at
www.spark360.tv
, and within an innovative distribution model of branded web video channels and social media platforms. Host Renay San Miguel takes you inside the nine-story Interurban and interviews Charles Acklen, a partner in the Barker-Nichols development firm that saw the "spark" of urban restoration inside its 94-year-old walls.
Acklen says the Interurban is the crowning achievement for his late partner, Hiram "Chip" Nichols. "It was his vision, totally his vision," Acklen said. "He really loved downtown Dallas, and he had the passion to build something in downtown Dallas. We used to tease him that he was 'Mr. Dallas.'"
Investing in a major building restoration project during difficult economic times can be enough of a challenge. Luckily, Barker-Nichols received help from Dallas city officials in the form of tax incentives - on the condition that they build and stock what would end up being the city's only downtown food market. It has became a major selling point for the Interurban.
"We're selling convenience, and we actually have good prices. We actually are competitive with Albertson's and a neighborhood market and a Fiesta," Acklen said. "We have approximately 9,000 SKU's in this store, which is just about every grocery item you could think of, we have here. We're trying to offer convenience at a price and take care of people downtown."
The spark360 cameras show off the market, as well as an adjacent upscale restaurant/bar. Viewers also get a tour of some of the living spaces; one and two-bedroom apartments and lofts that range in size from approximately 425-2000 sq. ft.
"I used to live in New York City when I worked for CBS MarketWatch, and there's nothing in the Interurban's loft floor plans that wouldn't look out of place in a trendy SoHo building," says San Miguel. "Barker-Nichols' special partnership with the city of Dallas may indeed result in big city-style living deep in the heart of Texas. It was great to see a historic building like the Interurban get a second lease on life."
Senior producer Steven Swaim added, "Being an urban dweller myself, I see the challenges of downtown development from a unique perspective. What the team at Barker-Nichols pulled off with the Interurban development is truly extraordinary considering the hurdles they had to clear in one of the toughest economies ever for the real estate industry. We are pleased to introduce our viewers to The Interurban and the Urban Market because they are great examples of an entrepreneurial vision becoming a reality through tenacity and hard work."
About spark360 spark360 is a Web-based business television program that celebrates the spark of entrepreneurship in America by featuring the unique stories of small and middle-market businesses.
spark360 also provides a credible and relevant outlet to get your story to a global marketplace through our exclusive 360 Distribution social media platform. spark360 delivers broadcast-quality, network news-style programs via a comprehensive SEO-optimized "full circle" distribution strategy that reaches every corner of the Internet.spark360 is a division of Splash Media, L.P. (http://www.spark360.tv)
For media inquiries for spark360, please contact: Steven Swaim sswaim(at)spark360(dot)tv
About Splash Media:
Splash Media L.P., based in Addison, Texas, creates and develops custom web-based communications and training solutions that are powered by video. We specialize in developing video communications strategies and video delivery platforms that drive our customer's bottom line. Splash Media is a leader in the Enterprise Video Communications industry and has been delivering Internet enabled strategic video solutions since 2004. (http://www.splashmedia.com)
For media inquiries for Splash Media, please contact: Chris Kraft ckraft(at)splashmedia(dot)com
See Also:
[Via Legal / Law]
marlboro cigarettes | tadacip bestellen | kamagra oral jelly