Dr. Corey Hebert, a practicing physician and award winning broadcast journalist will testify before the United States Congress on Wednesday, April 28, 2010. Dr. Hebert will give testimony before the Committee on Energy and Commerce in a hearing titled "Public Sales of Hurricane Katrina/Rita FEMA Trailers: Are they Safe or Environmental Time Bombs?"
New Orleans, LA (PRWEB) April 27, 2010 -- Dr. Corey Hebert, a practicing physician and award winning broadcast journalist will testify before the United States Congress on Wednesday, April 28, 2010. Dr. Hebert will give testimony before the Committee on Energy and Commerce in a hearing titled "Public Sales of Hurricane Katrina/Rita FEMA Trailers: Are they Safe or Environmental Time Bombs?"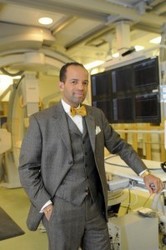 Dr. Hebert has worked tirelessly to inform the public of the dangers of formaldehyde exposure in high concentrations in FEMA issued trailers after hurricanes Katrina and Rita. Dr Hebert's testimony will follow the government panel, which will be comprised of officials from the Federal Emergency Management Agency (FEMA), the General Services Administration (GSA), and the Environmental Protection Agency (EPA). Most recently, the GSA has sold FEMA trailers to the public in large bulk lots exceeding 1000 units generating widespread health concerns throughout the country.
Dr. Hebert is scheduled to address the United States House of Representatives at 10:00 AM.
Corey Hebert, MD is Assistant Professor at Tulane University Medical School and currently the Chief Medical Editor of WDSU-TV, the NBC affiliate in New Orleans, La. He is the Chief Medical Officer of the Louisiana Recovery School District. To find out more, please visit www.DrCoreyHebert.com.
Contact:
Ms. Neo Rambo, Media Relations
(504)957-5701
See Also:
[Via Legal / Law]
buy marlboro cigarettes | tadacip 20 | kamagra oral jelly france