After kids are injured, the Brooklyn Bridge Park playground is closed for renovation less than a month after opening.
New York (PRWEB) April 28, 2010 -- Playtime is over at the $800,000 Brooklyn Bridge Park playground, which was shut down this week. Less than a month after it opened, the much-anticipated playground was declared a danger to children in order to avoid personal injury. Three steel climbing domes sitting uncovered and under the sun, were under criticism after reaching 128 degrees and burning children.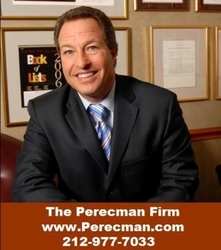 "This situation is most unfortunate. You would think a landscape architecture firm would have been able to foresee this problem," said David Perecman, a personal injury lawyer who works out of New York.
The foam safety surfacing is also in need of repair. The flooring has small holes all over it.
Park officials are examining the options they have for dealing with the scorching metal orbs. To temporarily address the problem, park officials erected temporary tents over them. However, these shades need to be shifted throughout the day to make sure the metal surfaces stay covered as the sun moves across the sky.
Outside the park, warning signs read "Steel dome play structures can be hot"
Parents believe designers placed aesthetics before safety.
New York's personal injury lawyers recommend that the city find a smart solution quickly, before children are out for the summer.
The legal responsibility is with the property owner, whether private individual or city, to make sure the property is safe. The law holds the owner responsible for injuries if they were aware of the dangerous condition and did not take the necessary steps to correct it. An owner can also be liable if it was obvious that the owner should have known about a hazard or a potential hazard and did not do what was necessary to prevent injury.
"Park officials are now aware of the danger and the danger has been well documented. At this point, negligence will not be hard to argue if the city does nothing, or does not do enough, and another child is hurt," said Perecman.
Perecman is optimistic New York City will find a solution. This incident also prompted protective action that may prevent situations like this from occurring again.
As reported by The New York Post >, a bill requiring the city to test playground equipment for safety concerns before the equipment is installed is now being considered by the state Assembly.
David Perecman and The Perecman Firm, PLLC:
For the past 30 years, the New York personal injury lawyers, auto accident, construction accident, and medical malpractice lawyers at The Perecman Firm, PLLC have championed all types of cases for personal injury accidents. David Perecman, founder of the Firm, is a Board Director and the past Secretary and Treasurer of the New York State Trial Lawyers Association (NYSTLA) and a chair of its Labor Law Committee. Mr. Perecman's achievements have brought him recognition as an Honoree in the National Law Journal's Hall of Fame, in New York Magazine's "The Best Lawyers in America" and The New York Times Magazine "New York Super Lawyers, Metro Edition" for the years 2007-2010.
The Firm has recovered millions of dollars for its clients. Among the more recent victories, Mr. Perecman won a $15 million verdict* for a construction accident, a $5.35 million dollar verdict** for an automobile accident, and a $40 million dollar structured settlement for medical malpractice.
*later settled while on appeal for $7.940 million
** later settled for $3.5 million
"Lawyer Advertising"
"Prior results do not guarantee a similar outcome."
See Also:
[Via Legal / Law]