The Most Famous Story Most Americans Have Never Heard.
Fairfax, VA (PRWEB) April 23, 2010 -- Possibly one of the most colorful and controversial ministers in American history, J. Frank Norris demonstrated an uncanny ability to organize and influence great crowds. During the Roaring Twenties, at the height of his ministry at the First Baptist Church of Fort Worth, Texas, the Reverend Doctor Norris preached to a congregation of over 10,000. High-strung, temperamental, creative, and cunning—Norris was a polarizing and enigmatic figure. Three times indicted for arson and perjury in the days before World War I, he managed to avoid conviction and emerge as one of the highest paid, best-dressed—and feared—clergymen in America. Some took seriously a rumored "eleventh" commandment: "Thou shalt not mess with J. Frank Norris."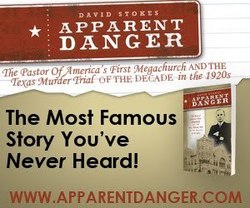 Ripped From The Headlines In The 1920s
Apparent Danger
describes the moment in 1926 when Norris shot an unarmed critic to death after an argument over a sermon. This killing and the subsequent trial in the Texas capital of Austin created a national media sensation.
Using more than 6,000 pages of newspaper articles, court records, and other published materials, author David Stokes brings Norris and a great host of colorful characters to life against the backdrop of a fascinating era. From cover to cover readers will be engrossed and surprised by this nearly forgotten piece of American history. It is quite possibly the most famous story most Americans have never heard.
Author David Stokes is a minister, broadcaster, and columnist. He has written extensively for Townhall.com, The Richard Nixon Foundation, The Cold War Times, Preaching Magazine, Crosswalk.com, and The Intelligencer—Journal of U.S. Intelligence Studies. His articles and columns are thought provoking and reveal a passion for history and politics as well as faith-related matters. Stokes—husband of 33 years, father of three, and grandfather of six—is the senior pastor of Fair Oaks Church (Fairfax, VA) and hosts a daily radio broadcast heard in several local markets as well as across North America on XM Satellite Radio. Along with his early ministry education in theology and divinity, he holds degrees in history and political science.
For Media Interviews or Book Reviews contact Debby White:
Phone: 571-641-0197
Bascom Hill Books
Official Release: 6/1/10
ISBN-10: 1935456113
ISBN-13: 978-1935456117
Retail: $24.95
Hardcover: 393 pages

Distributed by:
West Group
Also available through Ingram and Baker & Taylor
Sales Inquiries--contact The Cadence Group
Amy Collins MacGregor 513-342-1952 begin_of_the_skype_highlighting 513-342-1952

For more information about Apparent Danger, go to: www.apparentdanger.com
See Also:
[Via Legal / Law]