"Plug n GO" Off-the-Shelf, Cost-effective PBX system to Widen VoIPon's Reach in the Proprietary SMB Phone System Market.
London, UK (PRWEB) November 25, 2009 -- VoIPon Solutions UK Ltd., a distributor of the world's market-leading voice over IP equipment and services to businesses, today announced that it has formalized its distribution relationship with Foncordiax, makers of the innovative "Plug n GO" off-the-shelf IP PBX appliance for small businesses. The full Foncordiax line, now available for purchase on the VoIPon website, broadens VoIPon's reach into the proprietary SMB VoIP phone system space.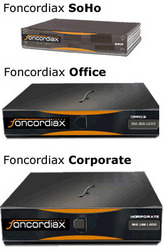 Foncordiax Plug n GO: The perfect partner for any small or medium sized business from 2 to 250 users
VoIPon Solutions had been piloting the Foncordiax line prior to the recent launch of the Plug n GO system and is pleased to officially add it to its vast selection of products represented.
"We are very excited about formally adding the Foncordiax brand to our range and becoming an official Foncordiax distributor," said Alexis Argent, VoIPon CEO. "VoIPon's staff has extensive knowledge and understanding of all technologies involved, including the integrated Sangoma B600 series telephony cards, so we can provide local expertise and support to our client and reseller base."
Mark Trowbridge, CEO of Foncoridiax is proud to have VoIPon on board. "VoIPon is known for delivering products that provide excellent value to their customers, and we're excited that the Foncordiax line will be well represented by a distributor of VoIPon's caliber alongside complementary market-leading products."
To listen to a recent podcast with more information on the Foncordiax Plug n GO range, please visit the VoIPon VoIP Uncovered Blog.
About VoIPon Solutions:
VoIPon Solutions UK Ltd. distributes the world's market-leading voice over IP equipment and services to businesses. Looking globally for inspiration, the company led the UK market into the Voice over IP space and is one of the most established companies in the region. By bringing best-of-breed equipment and standards of service to businesses both within the UK and abroad, and empowering its knowledgeable staff to build relationships with its customers, VoIPon helps businesses reduce the total cost of ownership of their telecom systems and devices. A division of Keison International, founded in 1986, VoIPon is a financially stable enterprise. More information on the company can be found at www.voipon.co.uk.
About Foncordiax:
Foncordiax; (www.foncordiax.com) is a next generation, feature rich, reliable and affordable telephone switchboard system. Each system can be tailored to a company's specific needs. The easy to use web interface makes it effortless to alter or extend any configuration. The Foncordiax system is in use all over the world; from small two man operations right up to Government Departments. 'Plug n GO' / 'Plug n Phone' versions are available for retail sales and direct customer installation.
Suggested Keywords:
IP PBX, Phone System for Small Business, VoIP equipment, Foncordiax, VoIPon, Sangoma
Media Contacts:
Kathleen Reed (for VoIPon)
Big Vox Marketing Inc.
t. +44 (0) 8455 570 118 x 5425
t. +1 416 613 0223 x 5425
voipon(at)bigvoxmarketing.com
www.voipon.co.uk
Foncordiax PR & Marketing Dept (for Foncordiax)
+34 966 265 065
+1 310 362 7095
press(at)foncordiax.com
www.foncordiax.com
See Also:
[Via Legal / Law]