Web content and Internet marketing specialists release report on how to generate free leads through your website.
Fort Lauderdale, FL (PRWEB) November 24, 2009 -- 2009 has been another tough year for the U.S. economy. Small business owners across the country are still feeling the strain to keep their businesses afloat and reduce costs. Typically the first items on the chopping block are things like training or marketing programs that aren't performing efficiently or offering business owners a good return on their investment.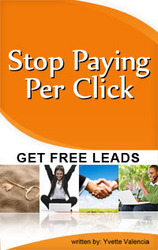 Stop Paying Per Click: Get FREE Leads is a great resource for anyone looking to expand their website, online presence, and get thousands of FREE Internet LEADS.
Now more than ever, small business owners are giving up costly advertising mediums such as TV and radio to market their products or services online. This is great move considering the infinite reach of the Internet and the massive amount of marketing tools available, but how does a business owner get started?    
Web copywriting and online marketing firm, We Do Web Content, is excited to announce the launch of a free report titled, Stop Paying Per Click: Get FREE Internet Leads, now available through their website
www.WeDoWebContent.com
. The free report offers business owners insight and advice to help develop their online presence and generate new customer leads without paying for costly pay-per-click advertising.
"I have spoken to business owners who spend thousands of dollars a month for their pay-per-click ads, but aren't converting any visitors. Driving traffic to your website is only profitable when you have the SEO content in place to back it up. I wrote Stop Paying Per Click for the business owner who wants to generate free leads through their website and learn how to convert those visitors into paying clientele," said Yvette Valencia, author of Stop Paying Per Click: Get FREE Leads and co-founder of We Do Web Content.
Do you want to get a leg up on your competition or drive some serious traffic to your website? Then, you need to learn about the fundamental marketing strategies that generate leads. Stop Paying Per Click lays out your options in plain, easy-to-understand language, and reveals insider information your competitors don't want you to know. Request your free copy of Stop Paying Per Click today!
Visitors to the We Do Web Content website will also find an extensive library of articles and blogs that cover the latest news affecting search engine placement, Web content creation and promotion, Internet marketing, and social media trends as well as information about We Do Web Content's copywriting and online marketing services.
About We Do Web Content: Based in sunny Fort Lauderdale, Florida, We Do Web Content is an online marketing firm that provides customized and affordable Internet marketing solutions. We work to increase our clients' search engine ranking and search engine placement through identifying each company's target audience and tailoring their website's content to engage visitors and drive sales.
Become a fan of We Do Web Content on Facebook
Follow We Do Web Content on Twitter
Connect with We Do Web Content on Linkedin
See Also:
[Via Legal / Law]