Schaefer takes on new role as Special Advisor to LeTip, the premier business leads organization.
(Vocus/PRWEB ) November 30, 2009 -- LeTip International, the premier B2B referral organization, has announced that Sy Schaefer, esteemed Executive Director of New York, New Jersey, and Connecticut has semi-retired. Schaefer will be continuing his relationship with LeTip as a Special Advisor.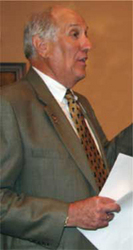 "Mr. LeTip," Sy Schaefer, Special Advisor to LeTip International
"Sy has been a stalwart supporter and a major contributor to the success of LeTip since 1991. His guidance, loyalty and care for the members in his region is legendary," said Kim Marie Branch-Pettid, President and CEO of LeTip International. In his semi-retirement, Sy, also known as "Mr. LeTip," will continue as a Special Advisor to LeTip International. This new opportunity will allow us to continue to grow and learn from Sy's exceptional and productive knowledge of the inner workings of LeTip.
Schaefer, now a resident of Boynton Beach, Florida, will continue to serve LeTip in his own unique, positive, and professional way. Schaefer's New Jersey and NYC chapters will be managed by LeTip's newest Regional Director, Paul Della Valle, who hails from Verona, New Jersey. Long Island chapters will be under the watchful eye of Ken Rubinetti, Long Island Regional Senior Ambassador. "With both of these professional networkers on board, we look forward to ongoing success for our LeTip members throughout the Empire and Garden States," said Branch-Pettid.
About LeTip
LeTip International is the world's largest, privately-owned, professional business leads organization. Since 1978, LeTip programs have helped over 50,000 members, throughout the United States and Canada, build business success through personal referrals.
LeTip International's structure set the standard in the word-of-mouth referral industry. Members are known for their professionalism, dedication, and loyalty to one another, and to the LeTip Program.
LeTip Chapters meet weekly to exchange qualified leads, build solid business relationships, develop strong presentation skills and become proficient networkers. Only one representative of any given profession is accepted into a chapter, and members are chosen for their occupational expertise. For more information on how to join a LeTip Chapter in your area, visit www.letip.com
See Also:
[Via Legal / Law]