Business networking professional to support Long Island's growing membership.
(Vocus/PRWEB ) November 28, 2009 -- LeTip International, Inc., the premier B2B networking organization, has announced the appointment of Ken Rubinetti, Sr., to the position of Senior Ambassador for Long Island, NY.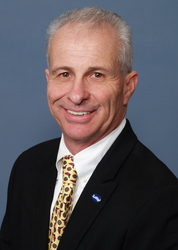 Ken Rubinetti, LeTip International Senior Ambassador
Rubinetti joined LeTip in 1997 as a member of Suffolk East Chapter. He has held many Board Member and committee positions throughout his association with LeTip, including President and Past President. In 2001, under the leadership of former Executive Director Sy Schaefer, Rubinetti took on the role of LeTip Ambassador. Today, as a Senior Ambassador, Rubinetti's responsibilities will now include training, directing and mentoring new and existing LeTip Chapters throughout Long Island.
"Ken Rubinetti's professionalism, enthusiasm, and dedication are an invaluable asset for our L.I. members," said Kim Marie Branch-Pettid, President and CEO of LeTip International. "As a member, Ambassador, and now Senior Ambassador, Ken has always had his finger on the pulse of Long Island's business networking. I am extremely happy that he has taken on this new post."
Rubinetti is the owner of Frontier Exterminating Company, established in 1976 and located in Selden, NY. A United States Army Veteran (1966-1968), Rubinetti served in Viet Nam during the Tet Offensive.
A proud father and grandfather, Rubinetti is committed to his family and community and lives by the words, "Don't look at what you have accomplished, rather look at what you need to accomplish." He has been a steadfast member of the Selden Fire Department since 1976, held the position of Captain of Heavy Rescue Co. 4, and is presently the Lieutenant of Senior Active Co. 6. Other fraternal groups of which he is a member include The Knights of Columbus 4th Degree, and the Veterans of Foreign Wars.
About LeTip
LeTip International is the world's largest, privately-owned, professional business leads organization. Since 1978, LeTip programs have helped over 50,000 members, throughout the United States and Canada, build business success through personal referrals.
LeTip International's structure set the standard in the word-of-mouth referral industry. Members are known for their professionalism, dedication, and loyalty to one another, and to the LeTip Program.
LeTip Chapters meet weekly to exchange qualified leads, build solid business relationships, develop strong presentation skills and become proficient networkers. Only one representative of any given profession is accepted into a chapter, and members are chosen for their occupational expertise. For more information on how to join a LeTip Chapter in your area, visit www.letip.com
See Also:
[Via Legal / Law]