Lexington Herald-Leader poll selects Frank Jenkins as favorite attorney for second year.
Lexington, Kentucky (PRWEB) October 29, 2009 -- For the second year in a row, personal injury attorney Frank Jenkins has been selected as Favorite Attorney in the Reader's Choice awards by readers of The Lexington Herald-Leader and Lexington.com.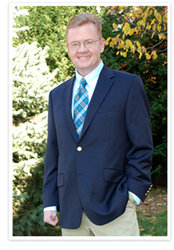 Frank M. Jenkins III
"The award is an honor," said Mr. Jenkins, of
The Jenkins Law Office
in Lexington, KY. "I believe this can be seen as a reflection of my firm's commitment to helping people by providing compassionate advocacy and individual attention to each of our clients - big and small."
More than 100,000 people read the Lexington Herald-Leader every day in Kentucky's second-largest city and the surrounding region. Newspaper readers voting in the 2008 and 2009 Reader's Choice contests selected Mr. Jenkins as Favorite Attorney over other lawyers practicing in Kentucky.
Mr. Jenkins said he believes litigation should be ethical but tough and driven by a commitment to representing the rights of accident victims.
"I want to thank the readers who voted," said Mr. Jenkins, who has worked as an attorney representing the injured in Kentucky for more than 19 years. "I hope individuals in need of an attorney will see this award as a recognition that they can turn to my firm when they need honest, diligent and successful representation."
About The Frank Jenkins Law Office
The Lexington, KY personal injury attorneys of the Frank Jenkins Law Office handle injury and accident cases, including motorcycle accidents, car accidents, wrongful death, workplace accidents, construction accidents and Social Security disability. For more information, contact the Frank Jenkins Law Office today at 1-800 CAR WRECK, locally at 1-859-389-9344 or through the firm's Web site at www.frankjenkinslaw.com.
See Also:
[Via Legal / Law]