ToxPredict and ToxCreate represent the first prototype applications developed under the OpenTox framework.
(PRWEB) July 1, 2010 -- OpenTox announces the release of ToxPredict and ToxCreate, the first prototype applications developed under the OpenTox framework. OpenTox is a collaborative research project funded by the EU to develop internet resources and software for toxicity testing, in particular to help meet the requirements of the REACH legislation passed by the EU in 2006. The new prototype applications utilise a distributed set of web services that work together and were recently demonstrated live before the first AXLR8 meeting of European research coordinators in Potsdam. ToxPredict enables the toxicological hazard of a chemical to be predicted via a simple internet browser interface, whereas ToxCreate provides a tool for more advanced users to create and validate new predictive toxicity models from their own datasets.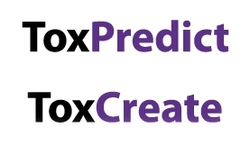 Both ToxPredict and ToxCreate are designed to estimate the toxicity of chemicals using computer models and databases. "Apart from the ethical issues involved, it's been recognized for a long time that using animals for risk assessment of chemicals has its limits," said Dr Barry Hardy, a Director of Douglas Connect, the Swiss Organisation acting as Coordinator of the OpenTox project. "It is not uncommon for the toxicity testing of a single substance to require thousands of animal tests, to cost several million Euros, and to take 2-5 years," he continued, "Because of this, there's an urgent need to develop alternatives to animal testing and the EU recognises the potential in utilising new computer-based models combined with emerging laboratory sciences."
"Using modern computing and internet technology to create and link resources in this field has the potential to greatly accelerate scientific progress. We also need to develop new innovative strategies and algorithms capable of effectively handling diverse and complex datasets," said Professor Stefan Kramer of the Technical University of Munich, who has been leading algorithms development by several research centres across Europe, Russia and India on the project. He went on to say "For maximum transparency, OpenTox is developed and distributed as an open source project as this enables not only critical evaluation of the implemented algorithms, but also ensures widespread dissemination, supports external developers, and could ultimately lead to a general improvement of the reliability and the acceptance by industry and regulators of computer models." Christoph Helma, owner and founder of In Silico Technology and lead developer of ToxCreate, added "The goal of OpenTox is to develop an interoperable framework that actively supports the development of new computer models and allows the easy integration of new data and tools."
"Currently, ToxPredict provides access to 16 ready to use predictive models addressing 14 different toxicity endpoints, and additional models are in the process of being added. Users can either search the OpenTox database, which currently includes quality-labelled data for more than 150,000 chemicals grouped in over 1,200 datasets, or upload their own chemical structure data," explains Nina Jeliazkova, technical manager at Ideaconsult Ltd. and lead developer of ToxPredict. "These prototype applications are just the first of what we hope will be many more to come! We encourage everyone in the field to get involved in OpenTox now so that we can all create a safer environment, safer products and to reduce - and eventually replace -unwanted animal testing." said Dr Hardy in conclusion.
For further information and to try applications out, please visit www.opentox.org or contact Dr Barry Hardy on +41 61 851 01 70.
OpenTox - An Open Source Predictive Toxicology Framework, www.opentox.org, is funded under the EU's Seventh Framework (FP7) Program: HEALTH-2007-1.3-3 Promotion, development, validation, acceptance and implementation of QSARs (Quantitative Structure-Activity Relationships) for toxicology, Project Reference Number Health-F5-2008-200787 (2008-2011). AXLR8 (www.axlr8.eu) is a new FP7 action for coordinating research projects in alternative predictive toxicology methods.
See Also:
[Via Legal / Law]