The power and flexibility of MsOffice applications enables users to create compelling and useful content, but can also drive productivity losses when used in repetitious but complex information processes which require data stability. OfficeSheet from Decade Nine is a family of Windows (r) tools that addresses these problems for power users of MsOffice applications like MsExcel and MsWord in complex information environments. OfficeSheet users have experienced productivity gains in excess of 500% in the end-to-end delivery of business processes where these problems are common.
(PRWEB) July 5, 2010 -- Decade Nine today announces OfficeSheet for MsExcel, OfficeSheet for MsWord and OfficeSheet for MsProject: new software tools to assist with driving productivity improvements for users of MsOffice (r) applications in complex information environments, such as are found in government and corporate offices.
How often do you receive spreadsheets or documents on a regular basis that don't quite match the format or layout of previous versions? How much time do you spend verifying the content of documents from other people, work groups or organisations. How many times a day, week or month do you spend downloading data from corporate or external systems and then cross-referencing, combining and reformatting before you can do your real job? For documents that are a part of a repeated business process, the time spent in understanding, absorbing, verifying, and reworking content can be a significant proportion of worker time.

The current approach to resolving these issues is to tie together multiple users of this type with in-house or web-based server applications. However there is an overhead to setting up these systems. And, with the explosion of casual, outsourced and contract labour it is often hard to engage these individuals effectively in these solutions.
The real centerpiece of productivity is the individual - and this is where the most significant productivity gains can be made with relatively little investment. OfficeSheet addresses these productivity issues at the individual user level: high-volume users of MsOffice applications in complex end-to-end processes. This is is where OfficeSheet applications can provide a solution.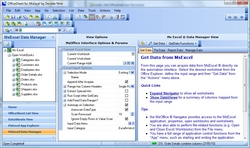 OfficeSheet for MsExcel in GetData Mode
OfficeSheet for MsExcel (OS4XL) is a Windows desktop software application designed for use in conjunction with MsExcel ™, which augments the operation and use of MsExcel and integrates it into an overall information workflow, especially for information-intensive work environments. OS4XL combines a direct application interface to MsExcel with a powerful data management engine specifically optimised for semi-structured information.
OS4XL provides many functions, including:

| | |
| --- | --- |
|   | MsExcel Application management: from OS4XL, you can control the MsExcel application, and its window visibility using standard windows concepts such as Minimise, Maximise, Hide, and Show. OS4XL adds a new windowing mode called "Underlay", to provide access to the MsExcel menus and to see the workbooks and worksheet data that is being selected. |
| | |
| --- | --- |
|   | MsExcel Internal Data and Document Integration: OS4XL detects the Workbooks and Worksheets that are open, and allows direct access to internal MsExcel data elements that are present in the workbook, such as Hyperlinks, Comments, Names and so forth. |
| | |
| --- | --- |
|   | MsExcel File Management: OS4XL provides extensive capabilities to manage groups of files as a group using a file specification collection called a "FileList". This powerful feature can either explicitly refer to multiple files, or can reference a pattern, including file attributes such as size or modified date. For example, if you regularly work with a number of reports that you download on a periodic basis, the File List can be specified to open the most recently saved file(s) that match a certain name pattern. |
| | |
| --- | --- |
|   | MsExcel Data Management: OS4XL enables you to rapidly perform numerous functions using cell data from open worksheets, or to create data in worksheets in MsExcel. There are four modes for data management: Get, Put, Report and perform a variety of Management functions such as "Burst" a single worksheet into multiple worksheet based on data values or grouping structures. |
| | |
| --- | --- |
|   | Data Analysis, Filtering, Summarisation & Transformation: using functions for analysing, summarising and transforming data using methods that are not readily available in MsExcel, including database like functions such as "Join". |
| | |
| --- | --- |
|   | Export & Publishing: OS4XL enables you to rapidly format data in visually appealing layouts many of which are not readily available in MsExcel, but without the overhead of a fully-blown reporting tool. |
| | |
| --- | --- |
|   | Communication: having summarised, transformed or formatted your information, OS4XL provides extensive capabilities for using this information to communicate with your colleagues and partners. |
| | |
| --- | --- |
|   | Automation via Scripting: OS4XL Enterprise Edition also includes a Scripting capability that is based on Microsoft's VBScripting engine with over 100 additional commands added, all representing functions that can be performed via the OS4XL User Interface. |
Users of OS4XL have experienced amazing productivity improvements on the repeatable business processes that most needed OS4XL's capabilities: typically tasks that have often taken 2 business days have been able to be performed in 2 hours.
OfficeSheet for MsExcel is the first in a line of products targetted at each major MsOffice application: in beta test currently are: OfficeSheet for MsProject, OfficeSheet for MsWord, OfficeSheet for MsPowerpoint, and OfficeSheet for MsOutlook. Other tools and products are under development.
Decade Nine (d9) is a privately-held innovation company based in Sydney, Australia. d9 develops software products to support knowledge-intense users of PC's to extract greater value from common unstructured and semi-structured information to and improve productivity through increased automation of everyday processes.
See Also:
[Via Legal / Law]