Addresses.com optimizes local search listings with integrated driving directions, Bing maps and other suggestions based on the user's search location offering broader and more interesting results
Bellevue, WA (PRWEB) July 6, 2010 -- Addresses.com, a leading provider of local search listings including white pages and yellow pages, enhances local search results with its 'in the neighborhood' features that integrate contextually relevant information including Bing Maps, detailed driving directions and information on local businesses that enable users to optimize their searches to receive broader and more interesting results in one simple search.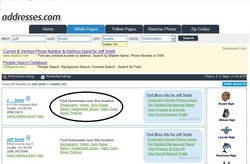 Addresses.com integrates search results for nearby local businesses into its white pages and yellow pages
Location is an important part of the way we search and is vital in helping consumers find the right information. Addresses.com has long been a leading provider of white pages and yellow pages services that consumers use regularly to find people and local businesses. Addresses.com offers even more by connecting consumers with location specific search suggestions in its feature called 'in the neighborhood'. This local search feature returns a list of nearby places related to your query within the same area including businesses, restaurants, movie theaters, gas stations, hotels and more. If consumers have a particular interest, or are unsure specifically what might be around them, this feature will be a great start, eliminating the need to do multiple searches related to the same subject.
For example, a user can search for the contact information for a friend including their address and phone number, they can also click on the 'nearby' feature to find the nearest Italian restaurant, hotel, local park, gas station or movie theater in the neighborhood. Addresses.com displays results that are in the context of what users are looking for and where.
About
Addresses.com is a leading provider of white pages and yellow pages directories that help consumers find people and businesses. Its leading directories help millions of consumers and businesses get connected every day through its integrated portfolio of services including:

 

White pages
Yellow Pages
Reverse Phone Look up
City Guides
Area Code Finder
Zip Code Finder
Reverse Address Look up
Affiliate Program
Please visit online at
www.addresses.com
.
Contact
For members of the media, please contact us at addressespr(at)gmail(dot)com.
# # #

See Also:
[Via Legal / Law]