Net lease property investors from the US, Europe and South America are actively pursuing commercial real estate investment properties in Costa Rica, where yields for income producing properties spiked dramatically during the financial crisis and remain at historically attractive levels. Income producing commercial properties in Costa Rica are trading at NNN CAP rates from 9 to 10, 30% greater than comparable US NNN lease commercial properties.
(PRWEB) June 29, 2010 -- Costa Rica commercial real estate faired notably well during the global financial crisis, as market fundamentals remained steadily in equilibrium; with balanced reductions in both supply and demand.
Commercial real estate in the Central Valley, the nation's primary commercial and industrial zone, never suffered the pricing pressure which plagued vacation home properties. Commercial property occupancy in San Jose, the nation's capital, has generally remained steady, with an 8% vacancy rate. Net absorption for San Jose office space has begun trending positive over the last few months.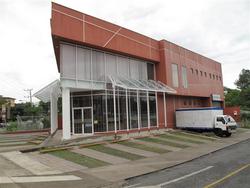 10.5 CAP NNN Single Tenant Bank Property
Commercial Costa Rica real estate development was never driven by the investor speculation, that created significant, residential property surpluses. The absence of commercial real estate financing during this period acted as a gating factor, precluding supply growth from outpacing demand.

For commercial income producing property investors, a timely consequence of the liquidity crunch is the notable spike in CAP rates (rental yield), offered by commercial properties in Costa Rica. Income producing properties such as offices, warehouses, residential buildings and retail space, have all witnessed a CAP rate spike of at least 25%, over the past two years.
According to Mr. Lanzo Luconi, President, Costa Rica Chamber of Investment Funds & Director, Investment Funds for Grupo Aldesa, "Income producing property yields, for commercial investment properties, still remain 2-4% higher than prior to the global financial crisis. Commercial real estate market liquidity remains weak but is gradually returning. The local banks have only recently begun to resume commercial real estate lending operations. As commercial real estate financing activity grows, the CAP rates available to net lease property investors will decline."
A typical NNN lease, bank single tenant, investment property in the US yields roughly 7%. A comparable net lease property in Costa Rica currently offers a 10.5 CAP, NNN return. The tenant is Banco Nacional, the larger of Costa Rica's two state owned banks. Banco Nacional is the largest retail bank in Central America, with $2.6B in assets and more than 160+ retail branches. This particular branch is located on the main traffic artery that traverses the most affluent suburban and business center in the country.
Costa Rica Commercial is the only Costa Rica real estate broker specializing in income producing investment properties, such as leased office space, warehouse facilities and retail shopping centers. Their portfolio includes commercial real estate investment properties from $500K to $25M, as well as prime commercial land parcels. They additionally offer joint venture, equity investment opportunities with leading Costa Rica commercial developers that generally produce compounded annual returns (IRR) greater than 20%, over a two to three year investment horizon.
See Also:
[Via Legal / Law]