Personal injury attorney Steve Gursten of Michigan Auto Law teaches lawyers that understanding the insurance industry's computer claims software is the key to settling personal injury cases for money
Novi, MI (PRWEB) June 19, 2010 – Most personal injury attorneys constantly grapple with how to do a better job settling cases quicker and for more money. Now, Steven M. Gursten, who is recognized as one of the nation's top attorneys handling auto accident cases, is answering those questions. Gursten is moderating and speaking at a Michigan Association for Justice Seminar aimed at teaching lawyers exactly how to settle personal injury cases for more money.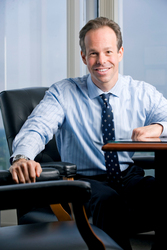 Steve Gursten is a Michigan Lawyers Weekly "Leader in the Law" and "Lawyer of the Year"
"This legal seminar has more than a catchy name," says Gursten, managing partner of Farmington Hills-based Michigan Auto Law, which exclusively handles
car accident
,
truck accident
and
motorcycle accident
cases throughout the state."It's becoming a necessity for personal injury attorneys to better understand how computer claims assessment software programs being used by the insurance industry have been responsible for decreasing the value of all personal injury cases, especially for car accidents."
In his speech, "The No. 1 Tip to Maximizing Personal Injury Settlements," Gursten will explain how many of the top No-Fault insurance companies use claims assessment software to evaluate personal injury claims. These computer programs all work on the same principle of tracking settlements of similar cases and personal injuries, then giving claims adjusters a range of what they have authority to settle these cases for, he said.
Gursten explains that in years past, when an incompetent personal injury lawyer tried to make a quick buck and settle a case cheap, all he was doing was hurting was his client. Now, with the widespread adoption of these assessment software programs, even the very best personal injury lawyers are finding settlement offers constrained by average settlements.
"This is because the values of their cases are gradually lowered each year, as median settlement values reflect every low and inadequate settlement and every negotiation made by bad lawyers. Everyone is now affected," Gursten said.
The solution? Gursten says to settle personal injury cases involving pain and suffering damages for top dollar, a personal injury lawyer must be willing to try cases.
"The difference in being willing to take a case to trial is huge. Insurance companies and defense lawyers know who plays the game. They know if it has been 15 years since an attorney has gone to trial, and they will conduct settlement negotiations accordingly," Gursten said, noting that bad faith litigation against some insurance companies has shown that a lawyer's reputation as someone willing to take a case to trial can increase the value of a settlement up to four times more for his injured client.
Gursten frequently speaks around the country on auto accident litigation and personal injury law. He is available for comment on settling cases for more money, No-Fault insurance or car and truck accidents.For more tips on auto accident and personal injury cases, read Gursten's legal guide for Michigan lawyers.
About Steven M. Gursten: Steven M. Gursten is recognized as one of the nation's top attorneys handling serious car and truck accident injury cases and automobile insurance litigation. He is co-chair of the Michigan Association for Justice Auto Accident No-Fault Committee, and holds leadership in several other local and national legal organizations aimed at helping car and truck accident lawyers and attorneys handling traumatic brain injury cases. Gursten received the top-reported auto accident settlement in 2008 and 2009, according to published reports from Michigan Lawyers Weekly.
About Michigan Auto Law: Michigan Auto Law is a third-generation law firm with 19 lawyers specializing in helping people who have been seriously injured in automobile accidents throughout the state. The firm has received the top reported jury verdict for auto accident cases in Michigan for six of the past nine years, according to published reports by Michigan Lawyers Weekly. Michigan Auto Law is headquartered in Farmington Hills, at 30101 Northwestern Highway, with additional offices in Detroit, Ann Arbor, Grand Rapids and Sterling Heights. For more information or a free consultation with an auto accident attorney, call (800)777-0028.
###

See Also:
[Via Legal / Law]