Translation Management System was a key facilitator to the ISO certification process.
Westborough, MA (PRWEB) June 10, 2010 -- While GlobalVision achieved its ISO9001:2008 certification last month, the internally developed Translation Management System, gvAccess.com, was instrumental in facilitating conformance to ISO requirements and obtaining certification.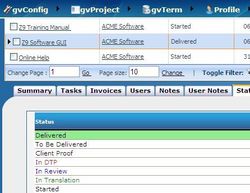 Translation Portal gvAccess
The portal dictates the use of the correct process steps and maintains full records of all projects, tasks, schedules and assets that are essential to projects' execution and ISO audit reports.
Since the portal is developed and maintained by GlobalVision's internal development team, it is customized to accommodate special ISO requirements and processes specific to GlobalVision's clients' needs and to the translation and localization industry as a whole.
This makes it very easy for ISO auditors to track all steps in the process and ensure conformance on every project and every task. In addition, clients can access all their projects' status, workflows and assets 24/7 in gvAccess.
"The transparency that our portal provides, gives our clients peace of mind while trusting their projects, budgets, quality requirements and release schedules to us", said Nabil Freij, President of GlobalVision and author of Enabling Globalization. "Becoming ISO9001:2008 certified, is only a side benefit!"
Recently, GlobalVision published its own eBook called Enabling Globalization: A Guide to Using Localization to Penetrate International Markets, free to GlobalVision's clients and available to all others for a nominal fee on Amazon and on www.EnablingGlobalization.com.
In addition, GlobalVision recently offered the program Window to the World to help clients reach over 90% of their worldwide online audience for under $5,000 US.
About GlobalVision International
GlobalVision International, Inc. specializes in providing translation and localization solutions to industries involved in software, IT, medical and media. The company is equipped with experts who can convert your products, literature and websites from and into all commercial languages. To learn more visit www.globalvis.com.
###

See Also:
[Via Legal / Law]