When divorcing, many people wonder how they can get their spouse of the home they share. In the latest episode of Divorce Talk Radio, Raleigh divorce lawyer Lee Rosen answers listener questions about getting your spouse out of the home and traveling out of state with the kids when no custody agreement is in place.
Raleigh, NC (PRWEB) June 28, 2010 -- Divorce Talk Radio, a production of North Carolina family law firm, Rosen Law Firm, discuss getting your spouse out of the house in, "Getting Your Spouse Out Of The Marital Home". Every week, Divorce Talk Radio features current topics in family law and answers listener questions regarding family law issues in North Carolina.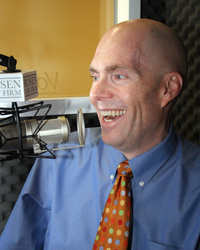 In this episode, Raleigh divorce lawyer, Lee Rosen talks about how you can get your spouse out of the marital home, and answers other questions such as, "Can you take kids out of state during separation if there is no agreement in place?" and "Is it possible to get a copy of someone else's divorce settlement?"
"...It's very difficult to force somebody out of the house, because you can't really file a lawsuit until you're separated…" says attorney Lee Rosen.
About Divorce Talk Radio
Divorce Talk Radio is a free, professional resource available to everyone in the state of North Carolina. Hosted live every Wednesday at 11 a.m. Eastern time, Divorce talk Radio offers listeners the chance to call in and ask questions about any aspect of family law and get answers from a Raleigh or
Charlotte divorce lawyer
.
Divorce Talk Radio covers a range of topics that may arise in a family law dispute. Recent episodes include; "Does Infidelity Affect Property Division?", "How To Remove Your Name From The Mortgage", "When Can Income Be Imputed For North Carolina Child Support?" and "How To Remove The Kids From Your Ex Spouse's House".
About Rosen Law Firm
With offices in Raleigh, Charlotte, and Durham, Rosen Law Firm is one of the largest divorce firms on the East Coast. Founded in 1990, the firm is dedicated to providing individual growth and support to couples seeking divorce by helping them move forward with their lives. Our staff of attorneys, financial professionals and specially trained divorce coaches expertly addresses the complex issues of ending a marriage. Our innovative approach acknowledges that divorce is so much more than just a legal matter. Practice areas include child custody, alimony, property distribution, separation agreements and domestic violence relief.
For More information on Rosen Law Firm and Divorce Talk Radio, or for an interview, please contact Ned Daze at Rosen Law Firm.
Media Contact:
Ned Daze, Director of Public Relations
Rosen Law Firm
919-256-1558
http://radio.rosen.com
See Also:
[Via Legal / Law]