BigHand for iPhone Dictation App boosts support for professionals who work out of the office regularly and need to produce documents on-the-go.
(PRWEB) June 4, 2010 -- BigHand, the leading voice productivity vendor in the professional services and public sector community, has today launched the second iteration of its BigHand for iPhone™ App. The iPhone dictation app forms part of BigHand's Enterprise Edition which is used by over 100,000 busy professionals including lawyers, surveyors, accountants and doctors to manage their workload and produce documents while mobile.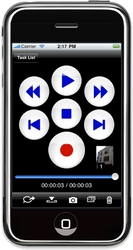 BigHand for iPhone Recorder
Features include:
-   Record speech, edit, insert, overwrite, fast forward or rewind
-   Take photos from within the app and attach them automatically to your dictation
-   Expedite document production by setting a priority such as low, normal, or high
-   Convert your voice-to-text via a server-based engine if no PA support is available
-   View your work list and track live progress updates
-   Manage your recordings
-   Receive automatic notifications about completed documents and review as required
BigHand for iPhone software, specified for iPhone 3G, 3GS and iPhone 4, is available from the App Store* at http://itunes.apple.com/us/app/bighand/id363744433?mt=8.
Asif Ali, BigHand Head of Products, commented:
"While mobile professionals face a myriad of challenges in working effectively away from their main office or site, using BigHand they can significantly and instantly improve their out-of-office document production efficiency. Now, for example, any CEO only needs to be armed with their iPhone plus the BigHand app to instantly record and send verbal tasks to team members and track the progress of delegated work in real time. It will also enable them to take photos and record associated notes, convert those notes to text, and access office-based secretarial assistance for their longer document or report requirements."
A video demo is available on the BigHand YouTube Channel: http://www.youtube.com/bighandsoftware, plus a BigHand for iPhone Pre-Sales Technical Datasheet can be requested by emailing mobile@bighand.com.
*Full BigHand for iPhone functionality such as sending, tracking working or converting voice-to-text requires a licence key activation via a connection to a BigHand Enterprise installation, details of which available by visiting www.bighand.com. Free App Store download (without licence key) allows only recording, editing and in-built photo capability.
Apple, the Apple logo, iPod, iPod touch, and iTunes are trademarks of Apple Inc., registered in the U.S. and other countries. iPhone is a trademark of Apple Inc. App Store is a service mark of Apple Inc.
About BigHand
The BigHand Group supports over 117,000 professionals globally, across 1,250 organisations, and is based out of London, Chicago, Sydney and Toronto. BigHand is a Microsoft Gold Partner, Elite BlackBerry ISV Partner, and was voted 'Dictation System of the Year' at the 7th Annual Law Technology News (LTN) Awards 2009. BigHand was also nominated at the British Legal Awards 2009 as 'Technology Provider of the Year'. Additionally, BigHand won 'Mobile Product of the Year' at the CNet Business Technology Awards 2008. Further info is available at www.bighand.com
Contact: Dan Speed, Marketing Director, BigHand, dan.speed@bighand.com or Asif Ali, Head of Products, BigHand, asif(dot)ali(at)bighand(dot)com.
See Also:
[Via Legal / Law]
sildenafil citrate 100 | levitra generique | paroxetine et prise de poids