OFFICENSE Provides Companies with Sensible Virtual Office, Live Receptionist and Business Solutions.
Baltimore, MD (PRWEB) June 4, 2010 -- We recently executed an agreement with the franchisor of the Intelligent Office system, which ends, on mutually amicable terms, our status as an Intelligent Office franchisee. Effective immediately, we are now known as "Instant Business Office LLC" dba "OFFICENSE" and are no longer part of the Intelligent Office franchise system.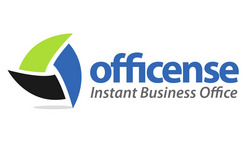 Logo
Picking our new brand-name was hard work but we believe that with OFFICENSE we are able to succinctly convey the philosophy and goals of our company.
1.   OFFICENSE provides a common SENSE approach to fulfilling the business needs for facilities, telecommunications and/or administrative support services
2.   OFFICENSE provides the ESSENSE of a traditional office with the convenience of a 21st century Virtual OFFICE
3.   OFFICENSE creates an OFFICE PRESENCE for our clients
4.   OFFICENSE delivers office and communications services EFFICIENTLY without costly overhead or personnel issues
OFFICENSE will provide businesses all the advantages of a large company but without the usual expenses. For about 10% of the cost of a traditional office, OFFICENSE members are provided with access to fully furnished Class A office space, prestigious business address and live receptionist answering services. OFFICENSE members' business calls are answered live by our virtual assistants just like having their own private secretary and these calls can then be seamlessly connected to any phone, anywhere in the world. OFFICENSE will continue to provide businesses the exemplary customer service for which we are known.
"Most people join OFFICENSE based on our attractive pricing," says Michael McNulty. "However, they soon realize that not only is our service very cost effective but it also allows them to become more productive and many of them actually experience an increase in their overall revenue and profitability."
McNulty points out "The benefits of OFFICENSE services to local small and medium businesses are huge. Most small business owners need an office or conference room for only a few hours each month. All large businesses need receptionist staff that can handle their client-base efficiently and professionally. Every business needs exceptional receptionist service that allows them to remain productive while serving its customers needs. When we meet these needs, it results in increased referrals of new business from their satisfied customers. OFFICENSE clients get highly customized packages that include only those support services and amenities they need when they need it. Members only pay for what they use."
About OFFICENSE
Well known in the Baltimore area business community since 2006 for its dedication to customer service, OFFICENSE successfully combines the benefits of traditional office space with the flexibility of virtual office solutions. OFFICENSE client list includes lawyers, accountants, financial advisors, insurance agents, technology companies, real estate agents, mortgage brokers, limousine services, wedding caterers, commercial cleaning services and more.
For more details please contact Michael McNulty at 410-814-7500 or visit www.OFFICENSE.com.
###

See Also:
[Via Legal / Law]