Leading link balancer manufacturer and value-added distribution specialist join forces to expand market share in Europe.
Montreal, Canada (PRWEB) June 22, 2010 -- Elfiq Networks, the manufacturer of the most innovative link balancer solutions on the market today, has entered into a distribution agreement with IPsteel, based in France, to distribute Elfiq's leading link balancer products to solution providers and value-added resellers.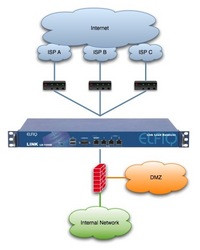 Sample Implementation
"Elfiq is thrilled to partner with IPsteel to bring our offerings to France," said Jean Pascal Hebert, Vice President of Business Development at Elfiq Networks. "By partnering with IPsteel, Elfiq gains an ally to provide a superior product line and enhanced partner support to a region where there is immense growth potential."
"IPsteel is very excited to partner with Elfiq Networks and distribute their market-leading product line," said Luc Vantroost, Managing Director at IPsteel. "Elfiq brings a critical component for our partners to help their customers stay connected and improve overall organizational performance through the use of multiple ISPs. We expect demand for Elfiq's product to grow very rapidly as more bandwidth is always requested from partners and customers."
Elfiq Networks' products will bring synergy to IPsteel's current product offerings, including CoyotePoint and AhnLabs, where Elfiq provides the key ingredient to maximize uptime and bandwidth for the total solution. This new relationship with IPsteel will enable solution providers to deliver turnkey solutions for application delivery and cloud-based projects.
Elfiq Networks is rapidly becoming the leader in bandwidth management and ISP link balancing by developing a global network of reseller partners, while providing key solutions to organizations in over 68 countries worldwide.
Elfiq Networks' link balancers enable organizations to utilize multiple concurrent ISP circuits to prevent Internet connectivity downtime and improve overall access performance. With more Internet-based applications and services being used in organizations every day, proper access to the Internet has become a critical asset for normal business operations, where loss of connectivity or ISP link saturation can result in lost revenue.
About Elfiq Networks
Elfiq Networks (Elfiq Inc.) is a leader in the development of innovative telecommunications and security solutions used in over 68 countries. Aware of today's economic stakes, Elfiq brings leading-edge ideas and increased strategic information technology investments to businesses. Elfiq is a privately owned company headquartered in Montreal, Canada. For more information, visit www.elfiq.com.
About IPsteel
IPsteel is a distributor that provides the francophone with market innovative solutions that are not distributed nation-wide. Through partnerships with major international companies, IPsteel seeks to develop a range of competing solutions to established products, while providing a new strategic vision, constant product innovation and competitive pricing. Through a network of reseller partners, integrators and service companies, IPsteel markets its solutions by providing different types of media from traditional media to 24/365 support.
See Also:
[Via Legal / Law]
generic viagra online | online pharmacy without prescription