National collection agency earns a top rating from the Better Business Bureau
Champlin, MN (PRWEB) June 21, 2010 -- Summit Account Resolution announced today that it has earned a perfect A+ rating with the Better Business Bureau. The agency's "firm but professional approach" has proven to be effective and is appreciated by both clients and consumers who owe money. Tim Turner, President, is proud to uphold these ethical standards and stated, "In a time when media stories abound about aggressive and unscrupulous tactics by collection agencies, it seems rare to find a positive story about an agency focused on doing the right thing. It's extremely satisfying to have and retain such a positive review."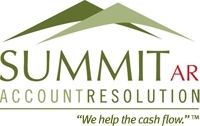 Professional and ethical debt collection
Summit Account Resolution is a
Minnesota-based collection agency
with a national presence. "We are able to give our clients a personal, small agency feel while being able to operate and assist them nationwide," explained Turner. The debt collection company's broad client base includes medical providers of all types, leasing companies and consumer loan corporations, as well as commercial clients. "We assist businesses of all sizes with their problem accounts in a cost-effective manner," said Turner, "but we do so by taking a different approach than many other collection agencies." This culture of professionalism is evidenced by Summit's entire collection staff taking the "Collector's Pledge" which emphasizes treating all consumers with dignity and respect. The Pledge is an initiative sponsored by ACA International, the collection industry's trade association.
Turner is quick to point out that not many debt collection agencies have maintained a perfect rating with the Better Business Bureau. "We work very hard to uphold our reputation, and our success proves that agencies don't have to treat consumer debtors poorly in order to achieve superior results. It's all about respect."
For more information visit the company's website at http://summitcollects.com or call 888-222-0793.
###

See Also:
[Via Legal / Law]