Can medicine, science and faith finally come together and prove what lies beyond death? Have the scientists of today found proper evidences that reveal the existence of our souls, Heaven and God? If so, where is Heaven? What does Heaven consist of? And most importantly, has anyone really gone to Heaven and returned to tell us about it in this day and age?
Salt Lake City, UT (PRWEB) April 30, 2010 -- Many profound questions ranging from the Meaning to Life and those related to religious teachings found in the Dead Sea Scrolls about Heaven and how the image in the Shroud of Turin was formed, are accurately answered in the new book "In Search of Heaven, the Eternal Life" (now available from AuthorHouse Publishing).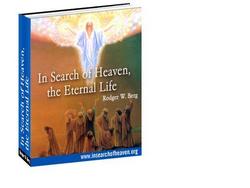 In Search of Heaven, the Eternal Life
Author, Rodger W. Berg, helps each reader decide for themselves if life really continues in a spiritual realm after physical death – and if Heaven truly exists. Many religious teachings from each of the world's religions (Buddhism, Christianity, Hinduism, Islam, Judaism), have undoubtedly influenced every aspect of our lives for the past 2,000 years. He is sure the information provided will finally clear up nearly 100% of all the misunderstandings, misconceptions and controversies surrounding all religious teachings of all faiths from its unsurpassed clarity.
Skeptic and believer alike can read the astonishing new results offered in this special one-of-a-kind powerful spiritual book that is for all people of all faiths, even non-faiths, as it features the most comprehensive evidences ever compiled on the subject of Heaven," says Berg. It is based on his extensive research in the fields of medicine, science and theology, along with what he has learned as a certified therapist and researcher for the past 22 years. The information revealed within the book is so universally accurate it can literally unite all religious faiths, thus ending all forms of conflicts and wars as it brings about global harmony.
"There are millions upon millions of people in the world who are seekers of truth, want clarity, and are willing to go the extra mile in finding it. If you were one of these seekers, would you not prefer the correct answers to your spiritual questions be based upon someone's experience who has actually been in Heaven, rather than ignorant intellectual hearsay?" Berg asks.    
Global media sources, such as the BBC, CNN, and others have reported repeatedly that physicians, scientists, and members of clergy of all faiths from around the world are baffled about why so many people and children of all ages and ethnic backgrounds, including those with no religious preference whatsoever, experience being out of their physical bodies in what is termed an "Near Death or Out-of-Body Experience." These people claim seeing vivid visions, loved ones who have passed on, and at times, being overwhelmed with the powerful emotional feeling of love itself. From the accurate evidences offered, Berg says that nobody needs to be baffled any longer for this book totally clears all of these mysteries up…factually.
According to a Gallup Poll, more than eight million people nationwide have personally experienced a Near Death Experience. This leaves us to wonder, just how many more have gone unreported?
The author believes this book will be the "second savior for mankind" as it becomes the second most read book in the world; the first being the Bible of each faith. It proves once and for all that Jesus, Heaven, God and Eternal Life are not philosophical conceptions any longer, but realities based on the most undeniable medical, scientific and Biblical evidences ever recorded in human history, thus making it the most sought after book in the world!
Berg is an author, teacher, lecturer, spiritual counselor and certified therapist.
ABOUT AUTHORHOUSE
The oldest and most successful print-on-demand and eBook publishing company of its kind, AuthorHouse was founded in 1997 and has helped more than 17,000 people worldwide realize their dreams of becoming published authors. For more information, visit www.authorhouse.com.
EDITORS: For review copies or interview requests, contact:
Promotional Services Department
Tel: 888-519-5121, ext. 5040
Fax: 812-339-6554
(NOTE: Please provide a physical street address for book orders)
To Order Paperback or eBook versions Online 24/7:
Call publisher at 1-888-519-5121 or visit www.amazon.com
ISBN: 1-4107-5136-8, approx. 228 pg.
To view Blog go to:
http://lifeheavenssecretsrevealved.blogspot.com
###

See Also:
[Via Legal / Law]