The US Constitution Coach Kit - Reagan Leadership Edition includes the world's largest collection of original source historical and political documents, personal journals, minutes of the Constitutional Convention, Federalist Papers, Common Sense, Wealth of Nations, Democracy in America, all Presidential papers since Washington, and much more for pennies a work, plus "Reagan Speaks" with over 30 critical addresses on video, mp3, and text. Included is a feature length film, "A More Perfect Union" depicting the 1787 Constitutional Convention.
Provo, UT (PRWEB) April 30, 2010 -- These are critical times for America. Understanding what made America great, free, and prosperous for the last 222 years, and what the average person can do about preserving those qualities has never been more important.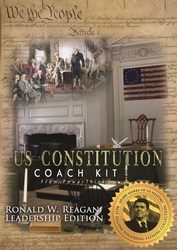 Reagan Leadership Constitution Coach Kit
PowerThink Publishing is on a mission to provide the necessary tools for anyone who desires to become knowledgeable and conversant in key original source history, whether observer of the political dynamics so obvious between Tea Party movement followers and those they oppose, or as a student of history and American politics. Original sources don't lie. And PowerThink, along with their associates, are proud to announce the launch of the most comprehensive study tools for American history and politics ever created on dvd and cdrom.
This collection of over 60,000 complete works and documents spans virtually every era of American history from the discovery and exploration era of Columbus, Coronado and Magellan to the present day, making this the largest collection of US History and Political Science works and documents ever assembled into one comprehensive database. No other library includes so much valuable information on DVD for computer-aided study.
PowerThink Publishing's two part mission is: #1 to introduce timely study materials containing the most critical original source histories and documents in American history including the Presidential Papers from Washington through Obama (June 2009) #2 is to provide leadership education for citizens and those aspiring to political office. PowerThink's Reagan Revolution 2 offers the "Gold Standard" -- Mr. Reagan in his own words and a powerful new title by his former Lt. Governor of CA. John Harmer: REAGAN, Man of Principle.
PowerThink accomplishes such a dynamic mission through creating THE US CONSTITUTION COACH KIT RONALD REAGAN LEADERSHIP EDITION and "Essential Edition" (minus Reagan Collection) for pc, handheld readers, and mobile devices.

In 2007 owners, James Michael Pratt, a New York Times bestselling author, and Carlos W. Packard, a world leader in electronic book development, set out to create timeless and inspirational libraries in eBook and limited print editions. www.powerthinkpublishing.com. They have achieved number #1 bestseller status on Amazon for such works as THE FIVE THOUSAND YEAR LEAP.
The development of the unique dvd-cdrom US Constitution Coach Kit is product began nearly 20 years ago when it was first released on 6 floppy disks under the heading 'Firsthand History of America'. After nearly 2 decades the library has grown so large that it requires 2 fully-loaded DVDs, with thousands upon thousands of key works and documents at your fingertips in the easy-to-use, most comprehensive, fully searchable US Constitution Coach Kit. The full length feature film, A More Perfect Union, and the unique Ronald W. Reagan Leadership Collection is included.
Only $49.95, the library includes:
RONALD W. REAGAN Collection:
--Reagan: Man of Principle – biography by Reagan's Lt. Gov John Harmer with Reader's Guide.
--Reagan Speaks: 32 key speeches of Ronald Reagan in video and audio from 1964 to 1989.
--The complete collection of addresses given during his presidency from 1981 to 1989
ORIGINAL SOURCE DOCUMENTS and eBOOKS:
--Magna Carta, The Mayflower Compact, Articles of Confederation, The US Constitution, Declaration of Independence, and study guides, plus Dr. W. Cleon Skousen's bestselling works on American history and politics: The Five Thousand Year Leap and The Making of America.
--The Founding Fathers in their own words
--Journal of the Federal Convention
--Autobiography of Benjamin Franklin
--Writings of Thomas Jefferson (6 Volumes)
--Writings of James Madison (4 Volumes)
--Democracy in America by Tocqueville
--Wealth of Nations by Adam Smith
--Common Sense by Thomas Paine
--The Federalist Papers
--Elliot's Debates
--Dictionary of American History
--Five key documents preceding US Constitution
--Presidential Papers (120,000+ pages, Over 100 Volumes)
--Supreme Court Collection, 1000 decisions (1793 - 1997)
--U.S. Congress Collection (17 works)
--Documents and Histories (42 volumes - 16,000 pages)
--National Party Platforms (1840 - 1996)
--Constitution Reference (19 works)
--Classic Histories (22 works)
--Western Civilization (11 works)
--Founding Fathers (12 volumes)
--Quotes Collection (12,000 quotations)
--The Five Thousand Year Leap – 30 Year Anniversary Edition with Glenn Beck Foreword
--The Making of America – Meaning and Substance of the Constitution by W. Cleon Skousen
$19.95 BONUS: The Complete Christian Collection – Basic Edition
--109 complete works including bibles, reference works, commentary, Bible maps and more.
--Over 2 million cross-reference links between the Bible and the other works.
$19.95 BONUS: The American Values Collection – Basic Edition
--Includes over 100 classic works by the most popular writers throughout history in eBook format for use on your computer and compatible mobile device.
--This collection also includes the popular James Michael Pratt titles: The Christ Report and As a Man Thinketh…In His Heart, plus many more.
$19.95 BONUS: The Ultimate Handheld US History Library
--Includes over 55,000 works and documents of American history and political science for use on your compatible mobile device.
$19.95 BONUS: A More Perfect Union: America Becomes a Nation
--The award winning movie dramatizing the 1787 Constitutional Convention was filmed on location.
All this for only $49.95. We'd invite the public to compare, but nothing like this exists anywhere else... Really.
See Also:
[Via Legal / Law]