Major medical marijuana industry players MarijuanaDoctors.com and PotLocator.com team up to simplify access to medical cannabis
(Vocus/PRWEB ) April 22, 2010 -- MarijuanaDoctors.com, the nation's leading online medical marijuana evaluations company, and PotLocator.com, the number one pot dispensary locator site on the Web, and have joined forces to help patients across the country find quality medical marijuana doctors and locate cannabis dispensaries. In addition to forming an exclusive partnership, MarijuanaDoctors.com and PotLocators.com have also finalized plans to add a doctor-finding feature to PotLocator's dispensary-locating iPhone app, making medical marijuana access even easier for patients in need and on the go.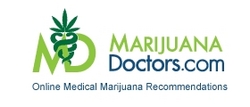 MarijuanaDoctors.com connects patients with medical marijuana doctors in all 14 marijuana states.
Through this partnership, PotLocator.com will integrate MarijuanaDoctors.com into its site as the exclusive marijuana doctor directory, and MarijuanaDoctors.com will present PotLocator.com on its site as the exclusive dispensary provider. The two sites have also made plans to expand on PotLocator.com's marijuana dispensary application, Pot Locator, the number one pot app in the iTunes store. The Pot Locator app lets patients locate cannabis dispensaries in every legal marijuana state directly from their iPhone, iPad and iPod Touch. Soon patients using the app will also be able to map out each marijuana doctor in their area using the directory of doctors at MarijuanaDoctors.com, making it much easier to obtain a
marijuana medical card
.
"The services offered by MarijuanaDoctors.com and PotLocator.com inherently complement one another, so it made perfect sense for our companies to develop a partnership along with an iPhone app," says Jason Draizin, the CEO of MarijuanaDoctors.com. "PotLoctator.com is the trusted, user-friendly site to find dispensaries in every state and we are confident that PotLocator.com will be a valuable tool for MarijuanaDoctors.com patients."

About MarijuanaDoctors.com
MarijuanaDoctors.com was founded to act as the trusted gateway for patients searching for medical marijuana treatment in all legal medical marijuana states. MarijuanaDoctors.com supplies patients with the latest medical marijuana information and provides detailed physician profile and schedule information—giving patients full visibility into the process of obtaining medical marijuana. Patients can browse, rate and review medical marijuana doctors, learn how to obtain a medical marijuana card and get medical marijuana in each legal state, and read up on all of the latest medical marijuana news and research.
MarijuanaDoctors.com holds high standards for the medical marijuana doctors and medical marijuana clinics allowed to join the site, and individually verifies each medical marijuana clinic and physician in its network. To learn more, visit Marijuanadoctors.com or call 1-866-996-9333.
About PotLocator.com
PotLocator.com is a public service listing of Caregivers, Collectives, Co-Op's, Associations and Medical Marijuana Dispensaries that provide services under their state's Medical Marijuana Program. The site was developed and designed to assist patients in locating their medical marijuana, after visiting a licensed physician in their state in a legal manner. Patients can also search for a local Marijuana Doctor through PotLocator.com at PotLocatorMD.com.
PotLocator offers an easy to use solution in finding the closest medical marijuana dispensary simply by entering your zip code and displaying those results onto a Google Map for each listing. PotLocator will also display directions from the patient's location to the dispensary desired. PotLocator.com is a fast growing site with a strong emphasis on legal issues and the continuously expanding the medical marijuana industry. For more information on medical marijuana legal issues, visit PotLocatorLaw.com.
See Also:
[Via Legal / Law]