The law firm of Gordon, Elias & Seely, LLP, has filed a lawsuit on behalf of the family of Karl Kleppinger, Jr., one of the missing 11 men who was on The Transocean Deepwater Horizon Oil Rig in the Gulf of Mexico when the fire and explosion occurred.
Houston, TX (PRWEB) April 28, 2010 -- On Tuesday, April 20, 2010 the semi-submersible oil drilling platform, Transocean Deepwater Horizon had an explosion and fire off the southern coast of Louisiana in the Gulf of Mexico. Two days later on Thursday, April 22, 2010, around 10 a.m., the oil drilling rig sunk to the bottom of the Gulf after the fire had burned for about 36 hours.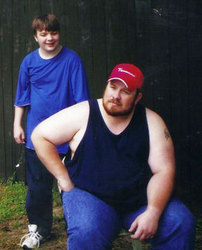 Karl Kleppinger, Jr and his son Aaron
There were 126 people aboard the state-of-the-art semi-submersible platform at the time of the incident. Most were able to escape in lifeboats, but 11 were missing and were never found despite a massive search effort by the U.S. Coast Guard. The search for the missing workers covered 2000 square miles.
One of the missing men was 38 year-old Karl Kleppinger Jr. of Natchez, Mississippi who is survived by his wife, Tracy and 17 year-old son, Aaron.
"Right now we're trying to find anybody who has any information, anybody who might have seen him and what happened," said R. Todd Elias, the family's attorney. "The family would like to have some information about what happened to him, and so far Transocean isn't telling us anything. They just tell us they don't know."
Karl Kleppinger Jr., is a former Desert Storm veteran who spent more than 10 years working on oil rigs. He was a dedicated floorman who worked on the Deepwater Horizon off the Louisiana coast. He was among the 11 workers presumed dead after the Coast Guard officially called off the search on Friday, April 23, 2010. Officials stated that they believed the workers never made it off the oil rig.
On April 22, 2010 a lawsuit (Cause No. 2010-25245, filed in Harris County ED101J015754153) was filed by Houston-based law firm, Gordon, Elias & Seely, L.L.P., against Transocean Offshore Deepwater Drilling, Inc., Deepwater Horizon, and BP Products North America, Inc. on behalf of Kleppinger's wife and son. The lawsuit claims that the defendants were negligent and that the Deepwater Horizon drilling rig was not seaworthy.
At the time of the explosion and fire, Kleppinger had been away from his family for about three weeks. On Tuesday night, just before the blast, he made his nightly call home to his wife, Tracy. They talked about how he would be ashore in the morning and how he planned to buy a new washing machine to replace a broken one on the following day.
His wife, Tracy recalled the conversation. "He couldn't get home soon enough this time. I don't know why," she said. "I can't explain, there was this feeling that things were bad." "He says, 'Baby, I will be there in a couple of hours, I'll be home,'"
When he asked,"How are things?" she said, "Apart from my washer, which you're getting me Wednesday, everything's fine," she recalled.
He will be missed. A hero and a fine person has been lost.
In an interview with Ashley Rodrigue from ABC station WBRZ News channel 2 in Baton Rouge, Louisiana, his father, Karl Kleppinger, Sr., who lives in Zachary, LA, said that he never feared for his son's life, despite his offshore job.
The explosion, fire and sinking of the Deepwater Horizon also caused environmental damage. An oil spill has resulted from the incident which now covers over 1,800 square miles. That is an area bigger than the state of Rhode Island. A response team is trying to stop the leaks, but the oil is leaking at the rate of 42,000 gallons of oil per day and continues to spread through the Gulf of Mexico. Material is being put out to contain it but the oil leaks are still an ongoing problem.
Federal regulators were already in the process of writing new rules after a review found 41 deaths in oil rig accidents between 2001 and 2007.
According to the Federal Minerals Management Service, since 2001 there have been 858 fires and explosions, 69 offshore deaths and 1,349 injuries in the Gulf of Mexico.
Senator Mary Landrieu of Louisiana is calling for a full Congressional Investigation into the tragic event. She is calling for the U.S. Coast Guard and the Minerals Management Service to conduct a swift and thorough investigation into the incident.
Related searches:
Transocean Deepwater Horizon Lawsuit
Deepwater Horizon Lawyer
Deepwater Horizon Investigation
The law firm of Gordon, Elias & Seely, L.L.P. is quite versed in successfully suing Transocean. Just this year alone, they represented the family of one of the most deadly accidents that ever occurred in Transocean's history. Anyone affected by this tragedy should contact an expert maritime lawyer directly at 800-773-6770, 713-668-9999, or 800-491-3377. Their lawyers are licensed in Texas and their offices are in Houston where Transocean is situated. Steve Gordon is also licensed in Louisiana.
See Also:
[Via Legal / Law]