New York lawyer David Perecman sees parallels between tragic accidents on construction sites and the recent
New York, NY (PRWEB) April 21, 2010 -- The recent mine disaster did not happen in New York, but construction accident lawyer David Perecman sees many lessons for New York construction companies in this incident that killed 29 West Virginian miners.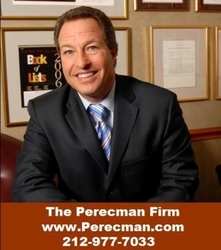 Most importantly, that tougher measures need to be taken against operators and companies found to have willfully violated safety standards and/or flaunted safety laws.
Apparently, the site of the construction accident, Massey Energy's Upper Big Branch mine had a history of safety violations. Most construction accidents in New York occur on construction sites and in buildings that have a history of violations, as well.
A recent parallel in construction safety news would be the Murray-Hill high rise where a social worker fell to his death because of a crumbling balcony. In that case, the corporation that owned the building already had $10,750 in outstanding fines for failing to properly inspect the building's exterior walls and balconies.
According to The New York Times, federal regulators cited the West Virginia mine eight times for "substantial" violations since April 2009.
Construction companies and real-estate corporations must remember that after a disaster, the impact can be seen in the bottom line. The cost of these disasters is especially high in New York when construction accident lawyers get involved. To proactively avoid this situation, many construction companies have implemented serious, safety programs on their own.
"Putting money into making a workplace safe, whether construction site or mine, certainly can make sense from a purely monetary standpoint," said Perecman.
Just because mining or construction is a dangerous business doesn't make disasters inevitable. New York construction accident lawyers can agree that the only thing inevitable about disasters is that almost always caused by a failure to comply with laws and good workplace practices. This is why it's important to enforce the laws.
"As a society we owe it to workers to do all we can to ensure their safety to the greatest extent possible," said Perecman. "To believe safety violations are a normal part of doing business is 100% wrong."
David Perecman and The Perecman Firm, PLLC:
For the past 30 years, the New York construction accident lawyers, auto accident, personal injury, and medical malpractice lawyers at The Perecman Firm, PLLC have championed all types of cases for construction accidents. David Perecman, founder of the Firm, is a Board Director and the past Secretary and Treasurer of the New York State Trial Lawyers Association (NYSTLA) and a chair of its Labor Law Committee. Mr. Perecman's achievements have brought him recognition as an Honoree in the National Law Journal's Hall of Fame, in New York Magazine's "The Best Lawyers in America" and The New York Times Magazine "New York Super Lawyers, Metro Edition" for the years 2007-2010.
The Firm has recovered millions of dollars for its clients. Among the more recent victories, Mr. Perecman won a $15 million verdict* for a construction accident, a $5.35 million dollar verdict** for an automobile accident, and a $40 million dollar structured settlement for medical malpractice.
*later settled while on appeal for $7.940 million
** later settled for $3.5 million
"Lawyer Advertising"
"Prior results do not guarantee a similar outcome."
See Also:
[Via Legal / Law]
buy marlboro cigarettes | tadacip 20 | kamagra oral jelly uk