'When Everything Has Fallen' by Nathalia Zongo, published by BookSurge
(PRWEB) April 26, 2010 -- Few of us, by the age of 25, have a life story complete and compelling enough to command an audience, whatever celebrity footballers might pretend. An exception is African born author, Nathalia Zongo, who lived a childhood of crisis, hardship and deliverance in a time of bloody political turmoil, made all the more remarkable by the fact that in her early 20s she started to learn English from scratch and by her mid 20s had written – in a beautiful, lyrical English – an enthralling autobiography, published in the US in 2007 and now available in the UK.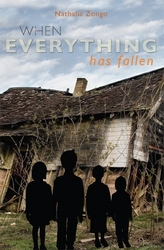 When Everything Has Fallen - Jacket
'When Everything Has Fallen' is the captivating tale of a young girl born in the impoverished African country of Burkina-Faso to a father who was the president's chief military officer and who was forced to flee with a price on his head after the 1987 assassination of the president, Tomas Sankara, in a political coup.
Zongo, now 28, was just five when her world was turned upside down by national politics and her story began in earnest. From the first pages, the reader is drawn into her world, not least by her unmistakably West African rhythms and cadence, as well as a candour and charm which together create a sense that one is not so much reading this life story as sitting intimately in the room with the author as she talks quietly and from the heart.
The assassination of Sankara – who was generally felt to be a forward thinking leader despite himself gaining power through a coup, and who upset traditionalists by promoting improvements in health, education and women's rights – made Nathalia Zongo's father, Etienne Zongo*, persona non grata in his own country. Arrested, imprisoned and tortured several times, and otherwise held under house arrest, he eventually fled in fear of his life and vanished from sight, leaving his family to cope.
His wife, Florence, and children endured the status of outcasts as they stood by him, sometimes afraid for their own safety. On his departure they had no choice but to stay in Burkina-Faso, living a life of ostracism and encroaching impoverishment as they remained faithful to the memory of a man whom they might well never see again, paying a high price for the public loyalty that became ever more difficult for them to justify to themselves. It was in this environment that the little Nathalia Zongo grew up, striving to help her mother raise her three brothers – the baby of whom was for a long time sick and thought unlikely to live – to maintain her love for her father and to avert the break-up of her ever more troubled family.
Zongo's story is not of high politics or state drama, though they are the backdrop. It is an autobiography by a child caught in the crossfire of history that takes a truly child's eye view of how to carry on regardless. It is deeply personal, the plight of her father, mother, brothers and self seen through the eyes of a little one who has to find maturity before her time, living the daily reality of struggle, not only to survive but to understand what it all means. Part of Zongo's skill as an author lies in remaining steadfastly inside the head of a five year old, then a ten year old, an 'awkward' teen and eventually a young woman, without the encroachment of hindsight or adult values.
At the age of 21, Zongo finally left her homeland for New York – an alien speaking very few words of English – where she not only learned the language but became a successful college student and, in very little time, the accomplished author of this autobiography, first published in the US in 2007. A little over a year ago she moved to the UK, where she lives today and where her autobiography is now published for a British audience.
'When Everything Has Fallen' is published by BookSurge and is on Amazon.co.uk (
http://www.amazon.co.uk/When-Everything-Fallen-Nathalia-Zongo/dp/1419648098/ref=sr_1_7?ie=UTF8&s=books&qid=1269477854&sr=8-7
) and other UK book sellers from £17.95, ISBN 1-4196-4809-8. Ms Zongo is available in the UK for interviews and will personally take enquiries for retail and film/broadcast rights on + 44 (0) 7574 24 2645 or by emailing thalizongo(at)hotmail(dot)co(dot)uk .
Notes for Editors
Author Nathalia Zongo was born and grew up through a period of political turmoil in the impoverished West African country Burkina-Faso, where most of her autobiography is set. She eventually moved to New York, Cleveland and then Dallas, where her published story ends, and now lives in London.
Kathryn Price, book editor of US Women's Radio, wrote "This is a stunning story about the sacrifices made to keep a family together. Rich in African history, this inspiring story is beautifully written, unforgettable and deeply moving."
Dallas reviewer Zella Vanlandingham wrote: "This is a story of agony, pain and triumph. It shows … that even when terrible things happen to us that we have no control over, we still have the ability to make decisions for a better life"
Ellen Tanner Marsh, New York Times best-selling author of 11 novels, wrote: "Zongo's ability to convey the love and need for her father is both touching and admirable … the underlying strength of her moving tale lies in her ability to make us understand that nothing can replace that."
| | |
| --- | --- |
|   | Etienne Zongo is not to be confused with Burkina-Faso politician Henri Zongo, who was part of a 1987 coup and was executed in 1989 (source: http://en.wikipedia.org/wiki/Henri_Zongo ). Etienne Zongo in fact survived and now lives in France. |
For further information please contact:
Nathalia Zongo, author
Tel: + 44 (0) 7574 24 2645 Email: thalizongo(at)hotmail(dot)co(dot)uk
See Also:
[Via Legal / Law]