Veteran BP Explosion Lawyers Offer Assistance to Workers Injured, Killed in Transocean Deepwater Horizon Explosion
Houston, TX (PRWEB) April 26, 2010 -- VENICE, LOUISIANA – The nation felt shocked and saddened upon learning of the recent explosion on the drilling platform Deepwater Horizon in the Gulf of Mexico. The rig, owned by Houston-based Transocean Ltd. and under contract to British Petroleum ("BP"), housed at least 126 workers at the time of the explosion.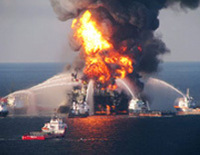 Horizon Oil Rig Explosion
As a
rig explosion lawyer
also experienced with assisting BP explosion victims, attorney Ryan Zehl encourages victims of the Transocean tragedy to immediately consult an experienced maritime attorney.
"We understand the far-reaching emotional and financial impact of this devastating tragedy and join the nation in extending our sincere condolences to families of workers who were injured and lost their lives."
The explosion of Deepwater Horizon in the Macondo Prospect resulted in 17 seamen reported injured and 11 unaccounted for. Transocean blamed the blast on a blowout, where oil forces its way up a well pipe, smashing equipment in its way.
BP's safety record has been under scrutiny for years. Last year the Occupational Safety and Health Administration (OSHA) fined BP $87 million for failing to correct numerous safety violations at their Texas City refinery, the same refinery that exploded in 2005 killing 15 workers. The fine, largest in OSHA's history, stemmed from a September 2005 agreement between BP and OSHA's safety inspectors mandating improvements. One OSHA official was quoted in 2009 by the Wall Street Journal, stating BP still has a "serious, systemic safety problem" throughout the entire company.
This recent tragedy puts BP safety under further scrutiny. Zehl expects multiple lawsuits to be filed, and is prepared to devote whatever resources are necessary to ensure Transocean explosion victims are fully protected under the law.
"Having worked with over 100 of those injured at BP's 2005 Texas City explosion, veteran BP explosion lawyers at Fitts Zehl, LLP have experience and knowledge needed to assist the victims and their loved ones in these times of need," he said.
About Fitts Zehl:
Fitts Zehl is an experienced maritime injury law firm dedicated to protecting the legal rights of offshore workers and families affected by the Deepwater Horizon explosion and helping with medical and necessary living expenses. For a free consultation call 1-800-993-4887.
###

See Also:
[Via Legal / Law]