My Criminal Justice helps students find a criminal education program that fits their needs so they can prepare for a successful career in this satisfying industry.
Provo, UT (PRWEB) March 24, 2010 -- In January 2009, the Federal Bureau of Investigation announced that it was going on a hiring blitz and planned to fill more than 2,100 criminal justice career positions. A year later, during what seems like an impossible economy, opportunities still abound and people can apply to be a special agent, hostage rescue team member and more.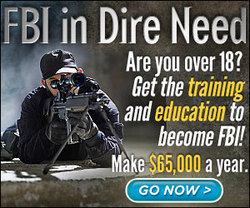 A career to be Proud of!
To land that dream job, it takes education and training. My Criminal Justice Careers helps students of all ages, and all stages in life, find a criminal justice education program at an educational institution that has what they are looking for. Many schools offer criminal justice programs online so students have the luxury of taking classes wherever and whenever it is convenient for them.
Careers In Criminal Justice
Jobs in this field include federal law enforcement, homeland security, special agents, police officers, detectives, security officers and many more.
Homeland security officers and special agents work to protect citizens at a national level. Law enforcement officers write reports, maintain incident records, collect evidence and patrol their areas. Police detectives collect information and prepare records that may be used in court. Security guards protect buildings and other facilities from vandalism, burglary and other illegal actions.
People who are successful in criminal justice are natural problem solvers and have a passion for protecting people and communities. They also have an interest in psychology and enjoy analyzing why people do what they do. They put ideas, data and evidence together to find solutions that put criminals behind bars and keep people safe.
Every day as a criminal justice professional is different and the job is full of variety. One day may be full of entering investigation data and the next full of on-site, evidence-gathering work. Those who work in the police force or as a security officer get plenty of exercise as they patrol neighborhoods or keep buildings secure.
Criminal Justice Education
My Criminal Justice Careers works to connect students with programs that will help them prepare for a successful career in criminal justice. Programs all over the country, as well as online programs, are preparing students for a successful career in criminal justice.
Every day more and more students are discovering the well-kept secret of just how rewarding a career in this field is. Graduates not only have the opportunity to work for the FBI, but several state and city agencies. This industry attracts courageous, selfless and brave individuals who are dedicated to building communities and keeping people safe.
Job Outlook
The U.S. Bureau of Labor and Statistics predicts an increase in employment opportunities for police officers, detectives, investigators and security guards. The bureau also reports the average compensation for police officers is about $51,000, for detectives and investigators about $60,000 and for security guards about $23,000. The wide array of jobs available in the criminal justice field means there is a broad range of salaries.
For more information on criminal justice careers and to find a program near you please visit My Criminal Justice Careers.
See Also:
[Via Legal / Law]
medications for anxiety | kamagra tablets | cialis super active+ 20mg