ATLANTALEASING.COM negotiates a 18,276 SF lease at 4830 River Green Pkwy, Duluth, GA with Life Church International.
Atlanta, GA (PRWEB) March 24, 2010 -- ATLANTALEASING.COM is pleased to announce the recent completion of an 18,276 SF lease at 4830 River Green Pkwy, Duluth, GA. Life Church International has moved its main worship facility to the building and holds services every Sunday at 10:30 AM. Life Church leased the space from Grimes Square Executive, Inc., a company controlled by Sol Margolias. Life Church scouted locations throughout metro Atlanta for more than two years prior to settling on the River Green property. Life Church's Lead Pastor Victor Massey stated in the church's website blog that "The Grand Opening of our new place of worship was better than we could have ever expected. The building was filled to capacity as 528 people attended."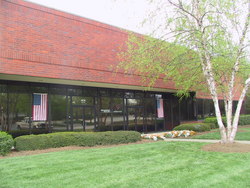 New Home of Life Church International: 4830 River Green Pkwy
Formerly the home of Bishop Thomas Weeks III, Juanita Bynum Weeks and their Global Destiny Ministry, the facility had been in use as a place of worship for over 9 years and was fully built out, furnished and wired for church services. The furnishings, sound and lighting equipment presented Life Church with the unique opportunity to relocate and expand its congregation with unprecedented simplicity from a facilities standpoint. David Aynes and Darren Margolias of Atlanta Leasing & Investment represented Grimes Square Executive and Sol Margolias while Craig Viergever and John DeCuto of Bryant Commercial Real Estate Partners represented Life Church and Lead Pastor Victor Massey. David Aynes, Partner at Atlanta Leasing & Investment, noted that "We received more calls about this building than practically any other I've ever marketed. Dozens of churches were attracted to the turn-key space with all of the equipment. Ultimately, the owner chose to work with Pastor Massey and Life Church because he was confident in their leadership and track record."
Darren Margolias, also a Partner at Atlanta Leasing & Investment, is handling the liquidation of all the items remaining from Global Destiny. Margolias says "there are fully loaded Apple G2 computers, monitors and cameras which we'll be selling off over the next couple of months." When asked what will happen to the life size, golden 'Ark of the Covenant' that Global Destiny left behind Margolias said "We'll probably auction it off if we determine that is has no special powers."
Atlanta Leasing & Investment is a boutique real estate firm offering equity investment and brokerage services in the metro Atlanta area. Since inception, Atlanta Leasing & Investment has acquired, leased and divested of over $450 Million worth of office, residential, industrial and retail properties. Our analysis will give you clarity in determining which deals to do - our experience will help ensure that you do them well. For more information, please visit www.atlantaleasing.com.
Media Contact:    
David Aynes
404-348-4448 x 2
770-551-0337 fax
www.atlantaleasing.com
See Also:
[Via Legal / Law]
buy drugs online without prescription | buy kamagra tablets | cialis super active