The MLM Watchdog Rod Cook the Oracle of MLM has helped thousands of distributors to succeed in the Network Marketing Industry. He has now made it available for Free two books chock full of success strategies to help the average person achieve success.
San Antonio, Texas (PRWEB) July 1, 2010 -- Rod Cook the MLM WatchDog and author of the world's longest running blog celebrates the 25th anniversary of The MLM WatchDog. Rod Cook, an MLM leading expert for over 40 years in the Network Marketing Industry gave birth to the MLM WatchDog in 1985 through his print publication the "Golden Opportunity magazine." He has announced that he is giving away two great books that he has written for Network Marketers in order to help out those wanting to achieve success in the MLM Industry.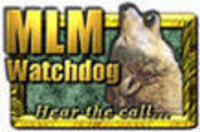 MLM WATCHDOG
Rod Cook, who created the MLM WatchDog in 1985 in print in the "Golden Opportunity" magazine, explains that "In 1994 it was put out as an e-zine via email with the blog portion based on the old forums at AOL. In 1997 it first went online as a website with news delivered by the MLM WatchDog e-zine. The claim as the oldest blog comes from the fact that the blog format was not for personal use, but rather to deliver consumer protection news about pyramid and ponzi schemes."
The MLM WatchDog
(www.mlmwatchdog) has always supported sincere MLM-Network Marketing companies and distributors. It delivers news about the latest MLM developments which are watched closely by astute MLM marketers who are looking for a marketing edge or advantage. Presently The MLM WatchDog has over 60,000 email subscribers, making it one of the largest followed blogs on the Internet today.
Thousands of MLM-Network Marketing experts call Rod Cook the MLM WatchDog, and more importantly, the "MLM Oracle" because of his uncanny ability to predict the future. Big Al, Tom Schreiter, gave the Oracle tag to Rod while on an MLM cruise in 2007. Tom realized that 98% of what Rod Cook shared with him about MLM comp plans, in time, became fact. Cook has certainly lived up to the title of the MLM Oracle.
The uncanny ability of The MLM WatchDog to predict the future also makes Cook a very popular consultant to large existing MLM companies and to new MLM startup companies. His MLM compensation pay plans are amazing and can be seen at his vast, accurate, MLM pay plan library:
mlmconsultant.com/mlmlibrary.htm
To find out how you can increase your MLM-Network Marketing income and receive your two free hot books from the creator of the world's oldest blog check out Rod Cook, the MLM WatchDog!    
mlmwatchdog.com/Bravenet.html
See Also:
[Via Legal / Law]