Wombat Security Technologies' has released version 2.0 of its world acclaimed Anti-Phishing Phil online training game with updated graphics and content, as well as the ability for security professionals to track the performance of their users.
Pittsburgh, PA (PRWEB) July 8, 2010 -- Today Wombat Security Technologies announced it has released version 2.0 of its world acclaimed Anti-Phishing Phil online training game. Anti-Phishing Phil teaches employees and customers of an organization how to recognize fraudulent websites. The highly effective game has been featured in prestigious scientific publications such as Scientific American and has been licensed for use by millions of users around the world. To play a short demo of the training game, visit Wombat Security Technologies' website at http://wombatsecurity.com/antiphishing_phil/index.html.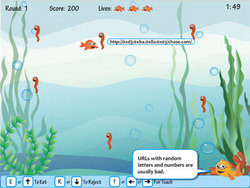 Anti-Phishing Phil game play
With release 2.0 of the game, Wombat has updated some of the content to reflect new trends such as the significant increase of phishing attacks taking place through social networks. The new version, which comprises a total of four rounds, also features updated graphics and enhanced reporting functionality for security professionals to track the performance of their users. Anti-Phishing Phil 2.0 is SCORM compliant, making it easy to deploy in an organization's Learning Management System (LMS) environment, and also includes a 508 compliant version.
Anti-Phishing Phil is an engaging online game that teaches people how to avoid falling for phishing attacks by training them to identify fraudulent URLs. Phil is a fun fish character that swims through the ocean searching for worms affixed with URLs. Users learn to analyze URLs and determine whether they are fraudulent or not.
Dr. Norman Sadeh, CEO and co-founder of Wombat Security Technologies said, "With Anti-Phishing Phil 2.0 we have made the most effective anti-phishing training and awareness game available in the market today even better. The new release is designed to be even more compelling and to make it even easier for security professionals to deploy in a wide variety of environments. Anti-Phishing Phil is built on solid learning science principles. It is designed to be fun to play and to ensure that users are most likely to retain what they learn while playing the game."
In contrast to more traditional training solutions, the Phil game has been shown to be significantly more effective in helping people recognize phishing attacks. According to the Scientific American article "How to Foil 'Phishing' Scams" that featured the game, "the ability of subjects who had played the game to distinguish legitimate URLs from fraudulent ones improved nearly twice as much as that of those trained with standard materials."
Anti-Phishing Phil has been licensed to both private sector and government organizations and is one of several highly effective anti-phishing training solutions commercialized by Wombat Security Technologies today.
About Wombat Security Technologies
With millions of users across North America, Europe, and Asia, Wombat Security Technologies is a global leader in cyber security awareness training and also offers unique anti-phishing filtering solutions. Wombat's products have been licensed for use in sectors as diverse as finance, government, and healthcare to name just a few.
For more information,
visit www.wombatsecurity.com
See Also:
[Via Legal / Law]
Potenshöjande medel - potenshöjande medel | online pharmacy without prescription