Last 72 Invites Public to Send in Stories
Piscataway, NJ (PRWEB) June 17, 2010 --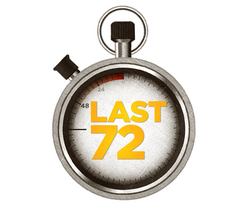 LAST 72
Somerset, NJ (PRWEB) June 17, 2010 -- What would you do if you were told you had only 72 hours to live? Not an easy question to answer, but that's exactly what participants in "Last 72" Writing Contest must do. Currently run and sponsored by the Emmy award-winning Everest Production Company and The Fountain: A Magazine of Scientific and Spiritual Thought, the competition invites writers to describe what it would be like if they suddenly had to live out three days as though they were their last.
Last 72 rises from the premise that life is a gift, and that most people take for granted the amount of time they have on this earth. As The Fountain's editor Hakan Yesilova explains, "We all have things about our past or present that we'd like to set right. But what changes would we make today if we realized the opportunity called life were running out?"
In addition to having their work published and winning up to $5,000 in cash prizes, finalists will also have the chance to star in an upcoming television program called LAST 72. Part social experiment, part soul-stirring docu-series, the show will follow a new person each week as they race against the clock to live out what truly matters to them most. And to those who think death is too gloomy a topic for TV, think again. "This is about uplifting people. By acknowledging their own mortality, they'll be equipping themselves to appreciate just how precious life is," says Everest's Nasuhi Yurt, executive producer for the series.
So, how should writers submitting to Last 72 seize the judges' attention? Contest organizers stress, zoom in on your real life and be specific. According to Yesilova, "We're not looking for bucket list fantasies. Who do you need to forgive? Will your family be taken care of? What actions would allow you to look back and say 'I'm finally at peace with how I've led my life.'"
Yurt frames it this way, "As you describe what you would do for your own Last 72 and why, get personal. How would those things change your actual life? And imagine what we would see if our cameras were right there filming you accomplish it!"
For more information contact:
Ali Y. Akarcesme, Phone Number: 1-732 560 0800 (ext 315)
www.last72.com
See Also:
[Via Legal / Law]