Says Wallace, "Amidst the desolate landscape of missed opportunities and broken hearts there lies the unanswered question: 'Why Do People Fail in Life?' Parents ask, 'Could I have detected early warning signs and avoided this misery for my child?' Meanwhile the child prodigy wonders, 'How far can I fall before the path toward doom becomes inevitable? How can I reverse course and get my life back on track?'"
San Diego, CA (PRWEB) June 5, 2010 -- Doug Wallace, the founder of the foundation, "S-KURVE," (Saving Kids Underperforming by Reinforcing Values Everyday), lived in abject poverty for the first twenty-five years of his life. His website at (http://www.dougwallace.net/) is dedicated to poverty solutions for American children. Wallace tells the story of living in poverty in Nashville, TN, in heartbreaking detail, in his award winning memoir, Everything Will Be All Right. The award can be viewed at the following website: http://www.indiebound.org/book/9781608320042/Douglas-Wallace/Everything-Will-Be-All-Right.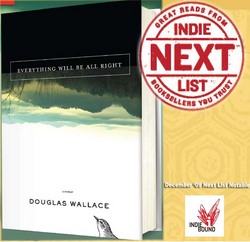 Available at eBay, Kindle, Sony Reader, Amazon, Barnes & Noble and retail stores everywhere.
Says Wallace, "Amidst the desolate landscape of missed opportunities and broken hearts there lies the unanswered question: 'Why Do People Fail in Life?' Parents ask, 'Could I have detected early warning signs and avoided this misery for my child?' Meanwhile the child prodigy wonders, 'How far can I fall before the path toward doom becomes inevitable? How can I reverse course and get my life back on track?'"
Wallace makes the point that "Every person, no matter their circumstances, is vulnerable to decline, and every person will experience failure in some way. There is no law of nature that says the rich will always succeed, while the poor will never get a fair chance. Anyone can fail and most all of us eventually do. But, many people recover, coming back even stronger—even after having crashed to the point of bankruptcy."
To be clear, Wallace emphasizes that this piece is not about achieving success. It's about why people fail. By understanding the characteristics of one's demise, we can substantially reduce the chances of falling all the way to the bottom, tumbling from importance to irrelevance. The purpose of this piece is to avoid failure. The seeds of decline can be detected early. Here are the ten reasons people fail in life according to Wallace's experience of living in the housing projects of east Nashville:
1. Unable or unwilling to follow through with commitments.
2. Allowing setbacks to destroy aspirations, making one impervious to hope.
3. Failure to make things right after discovering you're wrong.
4. Behavior outside social norms, while expecting to be treated like royalty.
5. Hubris, born of small successes, gives rise to denial of risk and peril.
6. Undisciplined pursuit of unrealistic goals      .
7. Grasping for success with a quick, big solution.
8. Capitulation when the going gets tough.
9. Failure to work hard, very hard, in everything that you do.
10. Clinging to people who hold you back.

Wallace makes one final point to those who think they cannot fail: "There are many variables to success, including chance opportunity and luck, but failure can always be traced to a bad behavior."
See Also:
[Via Legal / Law]