The Florida Suncoast Chapter of the American Society of Safety Engineers (ASSE) will present a series of interesting and informative monthly meetings for the coming year, including a factory tour in Naples and "Safe Florida 2010," the Annual Professional Development Conference and Exposition, in Fort Myers.
Fort Myers, Florida (PRWEB) June 28, 2010 -- The Florida Suncoast Chapter of the American Society of Safety Engineers (ASSE), the national organization now celebrating its 100th anniversary as the world's largest and oldest organization of safety professionals, has announced the establishment of a new informative website at www.assesuncoast.org - and plans for an active season in 2010-2011.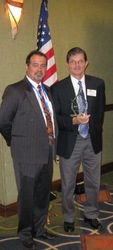 Chapter President Dean Ramineh welcomes Keynote Speaker John Henshaw at "Safe Florida 2009"
"Our mission is to preserve and protect people, property and the environment through good planning, improved communication and effective training," says Robert Andres, Chapter Director of Government and Public Affairs. "As part of that mandate, we will present 'Safe Florida 2010,' a comprehensive safety conference and exposition, in Fort Myers on October 29." Last year's event drew an attendance of over 100 and featured notable speakers including former OSHA head John Henshaw, former Florida chief medical officer Dr. Marion Thorpe, and "Stay Alive – Just Drive" director Jay Anderson, addressing a variety of safety and health-related topics.
The theme of this year's conference, 'Safe Florida 2010,' is "Developing and Sustaining a Safety Culture," highlighted with a keynote address by Shawn Galloway , a nationally-known speaker on the subject of behavioral safety, communication and motivation. The chapter is also seeking qualified speakers to present sessions on various topics in the field of safety and health. Interested partties are asked to contact Suncoast chapter VP Michael Adams at michaeladams@riskcontrolresources.com for details.
The Suncoast Chapter Calendar will also include monthly meetings and programs, most open to the public, held on the third Thursday of every month at the Tri-County Apprenticeship Academy on Jet Port Commerce Drive near the Fort Myers regional airport (RSW).
"In this sluggish economy, safety is often given too little attention," says Andres. "We will concentrate our efforts on improving safety in our prime area industries of healthcare, construction, hospitality/tourism and agriculture, and intend to organize and present a series of free informative webinars on such topics as building and highway construction safety, machine guarding, risk assessment, hazardous material management, distracted driving, OSHA recordkeeping, and pre and post-disaster preparedness, starting in January."
As Suncoast Chapter President Dean Ramineh assumes his role for the second year, he reminds us that "we must constantly seek out and use new, cost-effective ways to serve our members and our community. I am fortunate to have very talented professionals serving on our board and as members - to meet not only our chapter's goals but take a leading role in promoting safety in southwest Florida. These kinds of investments will produce long-term gains for our chapter and our community."
For more information on the Americam Society of Safety Engineers and the Suncoast Chapter, to review the interactive *Calendar of Events or register for any event, visit the chapter website at www.assesuncoast.org.
See Also:
[Via Legal / Law]