The worlds first patent pending method that allows for significant risk reduction for index investing. Investors can now confidently invest into various equity indices and have the losses significantly limited or capped while reinvesting index gains accrued to lock in both principal and gains, sometimes referred to as the "Ratchet Effect." Between 95-100% of the principal value is invested and backed by FDIC insured bank certificates of deposit or short-term US government bonds.
Austin, TX (PRWEB) June 24, 2010 -- Index investing has grown to be a significant part of the global money management industry. Many investors have equity index exposure with in their investment portfolios. The traditional method for mitigating index and investment portfolio risk were to diversify using asset allocation models and rebalancing to reallocate portfolio returns to other areas of the allocation model. "This strategy has worked well in the past however the current markets are not responding well to traditional methods of risk reduction," according to Dr. VanderPal CFP®, President of Skyline Capital Management®.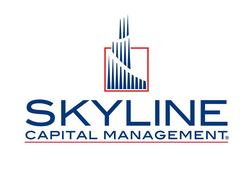 Skyline Logo
Economic events and the need for safety of investor's money provided the framework for a revolutionary and back-tested method of investing called the Principal Protected Index™ program. Both domestic and international patents are pending using this innovative approach to index investing. Our unique program allows clients to receive capital gains in upward or downward moving markets while protecting up to one hundred (100%) of the clients principal in FDIC insured bank Certificates of Deposits (CDs) or short-term U.S. government bonds. Over time, the gains earned and recognized from market participation are reinvested back into the principal amount maintained in FDIC insured bank CDs or short-term U.S. government bonds, creating a ratchet effect and locking in gains to provide more principal value. This method was developed by Dr. Geoffrey VanderPal DBA, CFP® in his doctoral studies and research.
| | |
| --- | --- |
|   | Principal Protected Index™ program provides for 95-100% of principal to continually be deposited into FDIC insured bank CD's or short-term US Government backed bonds for the ultimate safety of clients' money. The principal is not subjected to the risk of the stock market. |
| | |
| --- | --- |
|   | The Principal Protected Index™ program provides clients a choice of over 2 dozen indices to participate with in and have complete liquidity of their money without surrender charges. |
| | |
| --- | --- |
|   | A clients Principal Protected Index™ program allows for reinvestment of gains back to principal on an ongoing basis to protect both principal and past market gains. This is sometimes referred to as the ratchet effect. |
| | |
| --- | --- |
|   | The Principal Protected Index™ program provides gains comparable to 100% or more of the various indices available when markets are up in value. |
| | |
| --- | --- |
|   | The Principal Protected Index™ program limits downside risk to Five percent (5%) or less of principal value. |
For more information our website is
www.SkylineCapitalManagement.net
or contact Dr. Geoffrey VanderPal CFP® at 877-460-1570 ext. 102.
Skyline Capital Management® is a registered trade name for Principal Preservation Asset Management, LLC, a Texas registered investment advisory firm. Skyline Capital Management® specializes in principal preservation money management. Geoffrey VanderPal holds a Doctorate of Business Administration degree and maintains the Certified Financial Planner certification. Dr. VanderPal has over 18 years of professional finance and investment experience.
See Also:
[Via Legal / Law]
buy viagra online without prescription | online pharmacy without prescription