Consumers can quickly and securely stop identity theft using action buttons on their mobile phones or through email, avoiding a lengthier process of making phone calls or having to log into online accounts. This new technology compliments Smart Credit's already innovative credit report and integrated applications.
Costa Mesa, CA (PRWEB) June 3, 2010 -- Consumers now have a new way to guard against credit and identity theft with Smart Credit's™ newly launched mobile Rapid Response™ technology integrated into its Always Active Complete Protection™. When SmartCredit.com members activate Rapid Response, they can get important credit and identity alerts directed to a mobile phone SMS/MMS and any two email addresses. These alerts have an action button built-in allowing for rapid response. The action taken by the member will go directly to the source creditor, notifying them to cancel a new application for credit or close a new account because of possible identity theft.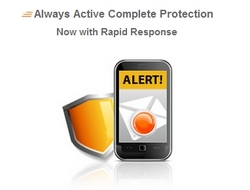 The next generation of identity protection
Complimenting Smart Credit's innovative
credit report
and integrated applications is Rapid Response's credit and identity alerts, with built-in action buttons communicating directly with creditors, exclusive and unique to Smart Credit, providing unmatched protection against
identity theft
.
"Rapid Response added to our Always Active Complete Protection has set the new standard for credit and identity protection," said David B. Coulter the founder and C.E.O. of Smart Credit.
Most other identity protection services require a long process to stop identity theft. Usually it involves one or more lengthy phone calls, logging in to an account, and providing written documents. They also do not address what happens if that identity theft account is posted to one's credit report. In most cases, an application for new credit or a credit account closed due to identity theft will show up on one's credit report. This is especially true for instant, same day or in-store credit approvals. The credit report may show it as a closed account, but it could still negatively affect one's credit score.
Rapid Response allows SmartCredit.com members to simply push the action button to stop an identity thief from opening a new credit account. Then, in the event that account shows up on their credit report, the member will get an alert where they can simply remove it with the action button. Further, members can report identity theft to the Federal Trade Commission and its Sentential database of identity theft victims used by law enforcement nationwide, all with the simple push of a button.
Rapid Response was built to address the urgency of stopping credit and identity theft. It is combined with Smart Credit's patent-pending Smart Action buttons which communicate directly with the source. It took several years to build Smart Credit's communication network connecting to over 36,000 creditors, collection agencies and financial institutions in the United States. These action buttons not only allow members to stop identity theft, but to ask their creditor anything. There is no need for making phone calls, writing letters or looking up account numbers.
Rapid Response is free for all SmartCredit.com members. New members can take advantage of a minimum 5-day unrestricted free-trial, then pay as little as $19.95 per month with no long term obligation.
About SmartCredit.com™
ConsumerDirect® is the maker of the Smart Credit system and was founded in 2003. It is an employee-owned company pioneering innovations, buttons and apps designed to get consumers to take action.
SmartCredit.com is for every type of consumer with its innovative credit report, action buttons and applications.
Smart Action™ buttons allow consumers to immediate address items on their credit report that may impact their credit scores or benefit their finances.
These action buttons allow members to get better interest rates or ask their creditor anything. There is no need for making phone calls, writing letters or looking up account numbers. They can also fix credit report errors, get goodwill corrections, recover from identity theft, replace a lost or stolen credit card or settle a debt all directly with their creditors. It took years for Smart Credit to build its network of over 36,000 creditors, collection agencies and financial institutions making its Smart Action buttons the premier way of effectively communicating with creditors.
Smart Credit also includes its Always Active Complete Protection™ now with Rapid Response as the premier identity protection service guarding both their credit and identity.
Over 350,000 people have subscribed to its services. For more information about Smart Credit, visit http://www.smartcredit.com.
Press Contact:
Ethan Taub
ethan(dot)t(at)consumerdirect(dot)com
714-431-0005 ext. 205
###

See Also:
[Via Legal / Law]