Studies show that 50% of identity theft and over 75% of medical identity theft happens physically when someone copies a paper file. The Record Master Risk Management System is an access controlled filing cabinet designed to better secure records and data. Recent changes in the technology used to secure the filing cabinets have reduced our assembly time by 25% and our system pricing by nearly 35%.
Camp Hill, PA (PRWEB) June 9, 2010 -- The Record Master Risk Management System is an access controlled filing cabinet designed to be a peripheral device integrated into most access control systems. Using the client's current security system to grant access to the cabinets eliminates the need for keys and creates personal accountability for those accessing the files.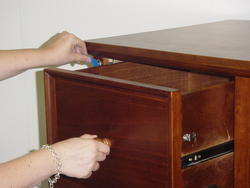 The Record Master RMS filing cabinet
The Record Master RMS filing cabinets,
http://www.cc-security.com/record-master.php
, give the users the same control over their filing system that they have over their facilities doors. They can leave the cabinets locked 24/7 and limit access by time, date, cabinet and individual. This can be a key step toward responsible records management and achieving HIPAA and SOX compliance.    
"I've been using the Record Master filing cabinets for 2 years and love them. Now my files are locked 24/7 and with my staff using key fobs to access the records, I'm now truly HIPAA compliant. With a few simple keystrokes, I can pull an audit report of when the cabinets were opened and who opened them." Kim Walker, President, Employee Benefits Solutions. www.employeebs.com or 717-236-3348 x 12.
The design of the cabinets allows them to operate with proximity cards, smart cards, Dallas iButton, biometric readers, pin pads, or any combination of readers. The flexibility of the Record Master RMS cabinets means they are ready to be tied into a FIPS-201 environment.
To further enhance the security provided by our system, C&C Security Systems, LLC, www.cc-security.com, has entered into a partnership with Parallel Solutions, LLC, www.2lines.com, of Pittsburgh. Together we are working to bring a new technology developed by the University of Pittsburgh, RFID Center of Excellence to market. This new form of RFID technology will track the record at all times within the secured area from the moment it leaves the cabinet until the moment it returns.
At this time C&C and Parallel Solutions are looking for industry partners to be early adopters of the technology.
About C&C Security Systems, LLC
C&C Security is a security system integrator located in Camp Hill, Pennsylvania. The C&C Security staff has over 40 years of experience in the security industry. C&C Security develops specialized security products, expanding on the application of access control and CCTV systems. To learn more about C&C Security, visit the web site: (http://www.cc-security.com).
Contact:
Steve Chianos, President
C&C Security Systems, LLC
888-442-2301 ext 701
717-574-9832
www.cc-security.com
See Also:
[Via Legal / Law]
sildenafil citrate 100 | buy erectalis | buy generic lexapro