Beachhead works with leading Japanese consulting company Bplats to bring compliance-enabling SaaS encryption service to marketplace
(PRWEB) June 8, 2010 -- Beachhead Solutions, the leader in easy PC Data Encryption Services, today announced that it has entered into a strategic partnership with Bplats, a leading Software-as-a-Service (SaaS) consulting company, to support growing demand for web-managed encryption and data access elimination services in Japan. Bplats and Beachhead will work together to deliver and support the cloud-based service through Bplats' network of nationwide distribution channel partners.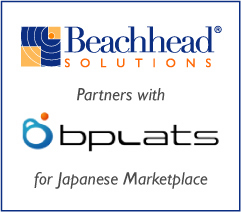 "We're delighted to be announcing the partnership with Bplats," stated Beachhead Solutions' CEO, Jim Obot. "With their strong, trusted channel relationships and focus on SaaS delivery of mission-critical IT security and compliance tools, Bplats was an obvious choice to assist Beachhead in our advance into the growing Japanese market for IT services. As a result of this partnership, organizations can more easily solve one of the biggest pain points for enterprise IT – remotely securing data on employee laptops."
"We're very pleased to be working with Beachhead Solutions," stated Bplats'CEO, Kenji Fujita. "Bplats is committed to delivering critically needed, best-of-breed SaaS-based capabilities to our distribution partners and customers, and we feel that Beachhead's tools fit perfectly with that commitment."
Beachhead Solutions created Beachhead Business™, the first-in-class PC encryption and security tool deployed as a SaaS service. Offered as both a self-managed subscription and a managed service, Beachhead Business enforces encryption and leverage "the cloud" to allow an organization to monitor and change PC security policy remotely. In addition, the service was designed to protect against data loss across a broad spectrum of threats, and can even be used to dynamically block access to locally-stored data; this access can be restored instantly if the threat passes.
About Beachhead Solutions
Beachhead offers first-in-class PC data security subscription services that leverage the cloud to enforce encryption and remotely manage security policy across an organization's PCs. Beachhead's services are both easy to administer and are user-transparent, giving an organization the ability to change policy on any remote PC including denial (and restoration) of hard drive data access to any PC user. For more information, visit www.beachheadsolutions.com.
About Bplats
Bplats, Inc is a privately held Japanese company that is pushing Cloud/SaaS uptake across Japan through nationwide distribution channels including DIS (Daiwabo Information Systems) and Networld. For more information, visit http://www.bplats.co.jp/.
See Also:
[Via Legal / Law]