Accomplished trial lawyer known for outstanding work as a criminal defense and civil rights litigator joins the defense attorney team.
Garden City, NY (Vocus/PRWEB ) June 14, 2010 -- Amy B. Marion has joined the law firm of Quadrino Schwartz. She will work in the firm's Criminal & White Collar Defense Group and will also be a member of the firm's Trial Practice Group along with Bruce Barket, Nathaniel Burney and Founding Partner Richard Quadrino.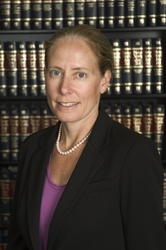 Amy Marion
Amy Marion
is an accomplished criminal defense lawyer and civil rights litigator with 22 years of experience in both state and federal courts. She has tried to verdict a multitude of felony cases, including homicide and narcotics cases. Ms. Marion has also led high-profile civil rights litigation involving malicious prosecution, false arrest and the use of excessive force. She has successfully litigated employment discrimination cases against the City of New York, the New York City Police Department, The Daily News and Citibank.
"We are excited to add someone with Amy Marion's passion, diverse experience and talent to our team," said Bruce Barket, head of the Criminal & White Collar Defense Group at Quadrino Schwartz. "Her background as a successful trial lawyer and former law clerk to a judge makes her a valuable asset to our clients."
Ms. Marion began her legal career with the Criminal Defense Division of the New York City Legal Aid Society. Due to her success in the courtroom, she was chosen from among all of New York City's public defenders to be featured in a program on Court TV.
In 1997, Ms. Marion entered private practice where she built her reputation in federal court as a formidable civil rights litigator. In a case that was featured in The New York Times, Ms. Marion won a settlement in excess of $1 million dollars for the brutal treatment of individuals being held in an INS detention center.
In 2005, Ms. Marion became Principal Law Clerk to the Honorable Tammy S. Robbins. She managed all of the cases pending before Judge Robbins in Nassau County Supreme Court, County Court, Family Court and the Domestic Violence Court.
About Quadrino Schwartz
For more than two decades, the New York trial lawyers at Quadrino Schwartz have provided its clients with effective and powerful representation on matters ranging from insurance law and business cases to criminal defense and white collar criminal defense.
Bookmark -  Del.icio.us | Furl It | Technorati | Ask | MyWeb | Propeller | Live Bookmarks | Newsvine | TailRank | Reddit | Slashdot | Digg | Stumbleupon | Google Bookmarks | Sphere | Blink It | Spurl
---
See Also:
[Via Legal / Law]